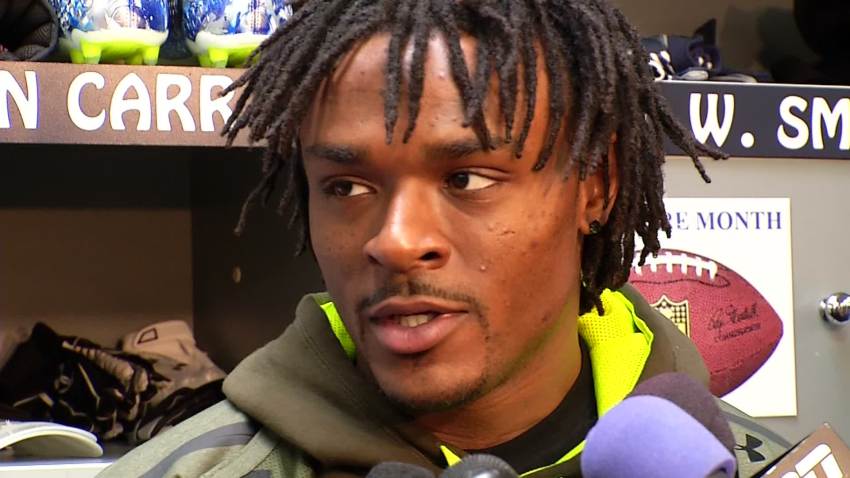 For those chirping that the Cowboys have overpaid Tony Romo, I have two words:
Brandon. Carr.
For the five-year, $50 million contract they awarded him a free agent in 2012, the Cowboys expected a durable shut-down cornerback. Maybe they should have only given him 2.5 years and $25 million, because Carr has been only half as good as advertised.
Sports Connection
Connecting you to your favorite North Texas sports teams as well as sports news around the globe.
As in, he's nailed the durability. In three seasons he's played in – and started – all 48 games. But as for productivity? Not even close.
Carr has only six interceptions in three seasons, including none last year. He had only nine passes defensed in 2014. And, if we're being honest, we can count his impact plays on one hand. The interception that sealed the overtime win against the Steelers in '12, the return for a score in a big win at Philly in '12, and the touchdown that sealed the season-opening win over the Giants in '13.
Yep, that's it. When analyzing his bang-for-the-bucks, Carr has severely underperformed. You could argue he's even been a bust.
So now what?
What should happen is that the Cowboys ask Carr to take a pay cut, he accepts and stays on the team as a starter. But when the idea was floated to his agent last week the brushback was swift and thorough, indicating that Carr would in no way accept a salary reduction. We'll see.
Because if he doesn't, he might be an ex-Cowboy come early summer.
For his production, no way Dallas can pay him $8 million. And, even worse, his salary-cap hit is $12 million, second only to Romo. He needs to admit he hasn't played up to the contract, re-negotiate a new one and help the Cowboys free up salary space.
Because of the departure of Sterling Moore and the injury-riddled career of Morris Claiborne – speaking of busts – Carr has some leverage. But if the Cowboys draft a cornerback, that negotiating power will disappear.
Truth is Carr owes the Cowboys for the hefty contract. And since he apparently isn't going to produce on the field, he needs to help them at the bank.
A native Texan who was born in Duncanville and graduated from UT-Arlington, Richie Whitt has been a mainstay in the Metroplex media since 1986. He's held prominent roles on all media platforms including newspaper (Fort Worth Star-Telegram, Dallas Observer), radio (105.3 The Fan) and TV (co-host on TXA 21 and numerous guest appearances, including NBC 5). He currently lives in McKinney with his wife, Sybil, and two very spoiled dogs.
Copyright FREEL - NBC Local Media