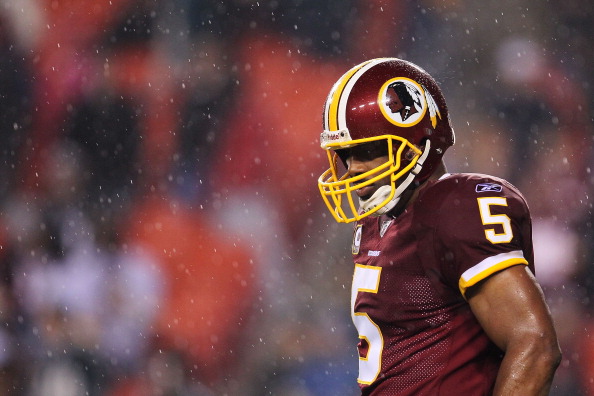 It's been a lousy day for Redskins fans, knowing the Eagles just posted a 59-burger on them, and knowing that their team just gave $40 million guaranteed to a quarterback they benched two weeks ago.

The contract extension Donovan McNabb got was stupid yesterday, and in the wake of the Redskins 59-28 loss at home to Philly, it feels even more inexplicable. McNabb threw three picks against his old team last night and fumbled once (a fumble he recovered). He'll be 34 years old next week, and 39 when this contract reaches its final year (odds he serves out the entire contract before being cut? -789%). This season has shown McNabb to be a player in decline, as inconsistent as ever. There's nothing to indicate he'll ever be as good or better than he was at his best, in the mid-2000's. So how could the Redskins possibly justify handing him all that money?

Well, here's one obvious reason they gave him the money: Because they could. With a new collective bargaining agreement still being negotiated, there's no guarantee that the NFL will ever again have a salary cap. Dan Snyder can waste $40 million on McNabb, then turn around and dump him next year if Mike Shanahan feels the need to groom a younger QB. Wasting money is what the Skins do best, and now they're in little danger of being in cap jail because of it.

But the second theory as to why McNabb got his huge contract is a decidedly more loopy one. Surely, you remember the bizarre race debate that broke out when McNabb was benched, with writer John Feinstein even calling for Shanny to be fired over "racial coding," which is so insane I want to break a plate over my head.
Now listen to Tony Kornheiser's theory about how that debate led to the extension:
"You know what, I wouldn't be that cynical, though I might think that," Tony said. "But I think the effect on this town, on Washington, D.C., with that benching and that humiliation and the sort of racial politics that wafted around, that somebody said let's get together and show everybody...
Sports Connection
Connecting you to your favorite North Texas sports teams as well as sports news around the globe.
I can't imagine the Redskins would be dumb enough to hand $40 million to an aging QB just to counter accusations of racism. Then again, these are the Redskins, and they are galactically stupid. Personally, I think it's more likely that they gave McNabb the money strictly to make John Feinstein look like an idiot, in which case I wholeheartedly approve.

I will say this though: If it turns out that the Skins did give McNabb all that cash as a result of a defensive PR effort, then Donovan McNabb is an evil genius, and he deserves that $40 million to spend on all the Swiss Cake Rolls he pleases. It's the Redskins. Would you expect anything other than mass chaos?
UPDATE: NBC's own Mike Florio says the extension only guarantees $3.5 million, which I still pray is enough to make Feinstein feel dumb.