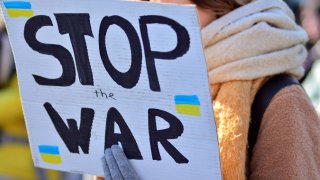 A Russian group that monitors political arrests says 208 people were detained in demonstrations held Saturday across the country protesting Russia's military operation in Ukraine.
The OVD-Info group said demonstrations took place in 17 Russian cities, from Siberia to the more densely populated west. More than 70 people were were detained in Moscow and a similar number in St. Petersburg, the organization said.
Video released by another group that monitors protests, Avtozak, showed some detainees being led to police prisoner transports as they smiled and carried flowers. Others were shown to be more harshly forced into the transports, bent over with their arms pinioned behind them.
Russian President Vladimir Putin's government has cracked down heavily on dissent, even before Russia invaded Ukraine in February.
This is a live update. Click here for complete coverage of the crisis in Ukraine.
Copyright AP - Associated Press