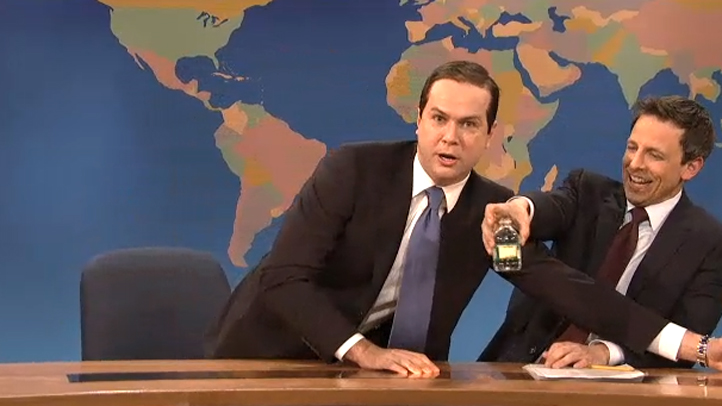 With a nightmare cruise, a papal resignation, President Barack Obama's State of the Union speech and Florida Sen. Marco Rubio's thirsty rebuttal, the crew at "Saturday Night Live" had plenty of material this week.
The show began inside the disabled Carnival Triumph, where two cruise ship workers, Diana and Dean (Cecily Strong and Jason Sudeikis) tried to lift the spirits of trapped vacationers.
Unfortunately, news of the nuclear testing in Korea, the killing of Olympian Oscar Pistorius' girlfriend and the pope's retirement didn't exactly calm them down. A series of equally as upset and distraught entertainers complaining about such maladies as "dookie on the walls" didn't help turn around morale either.
"I know some of you thought it would be funny, and was funny, to lie out on the top deck and spell out 'Kill Us' for the news helicopters," Sudeikis said. "That's not funny. We've got to keep our heads up and we can get through this thing together."
A later "Fox and Friends" segment addressed President Obama's State of the Union speech on Tuesday.
To put Obama's comments into perspective, the news show called upon the GOP's favorite rock star, Ted Nugent (Bill Hader), who was in attendance at the address. The gun enthusiast said he objected to all of the speech.
"Obama wants gun control but what we really need to do is take the guns out of the hands of crazy people," he said. "It's not hard to tell who is crazy. Just look at their eyes. The white part and the swirly part. And the third eye of truth."
"Weekend Update" with Seth Meyers also touched on the State of the Union address, when Obama proposed a series of initiatives that he said would help the economy, but not raise the deficit. Obama's plans however did not gain the support of the GOP.
"John Boehner rolled his eyes so hard he saw his brain," Meyers said.
More fun at the GOP's expense continued when Sens. John McCain and Lindsey Graham were heckled for their part in the ongoing Chuck Hagel proceedings.
"They said they would not proceed with the nomination of Chuck Hagel for secretary of defense until the Obama Administration provided more information on last year's Benghazi attacks," Meyers said. "Then and only then would they return to their balcony seats on 'The Muppet Show.'"
Sen. Marco Rubio (Taran Killam) was also a guest on the segment. Rubio explained his apparent nervousness while giving the GOP's rebuttal speech to Obama's State of the Union Address on Tuesday. Rubio gained national headlines this week after lunging for a water bottle and taking a quick swig during the speech.
Meyers asked Rubio how it felt that more Americans were concerned with his "drinking" than the speech itself.
"So what? My mouth got a little dry and I took a drink of water. I mean I don't see the big deal is. We've all been there. You're about to give an important policy speech -- you get a little nervous in the green room and you eat a whole bag of dry roasted peanuts and some beef jerky," he said. "There are hot lights on you. The room isn't ventilated. You're wearing your lucky burlap unitard under your suit. So you do what anyone would do: you suddenly lunge to the side, all the while holding awkward eye contact with the camera. And then you take a drink of water from the tiniest bottle of water anyone has ever seen. And then for no reason, you set the bottle down even farther away. So what? Lets talk about policy."
But once Rubio got his opportunity to discuss policy, the thirst reared its ugly head once again and he could barely talk. This time, Rubio drank so much he had to go to the bathroom.
ESPN correspondent Stephen A. Smith (Jay Pharaoh) also appeared on the show to address the poor play of Kobe Bryant and the Los Angeles Lakers this season.
Oscar winner Christoph Waltz was this week's host. In one sketch, Waltz played The Pope in a Papal retirement insurance sketch. The Alabama Shakes were musical guests.