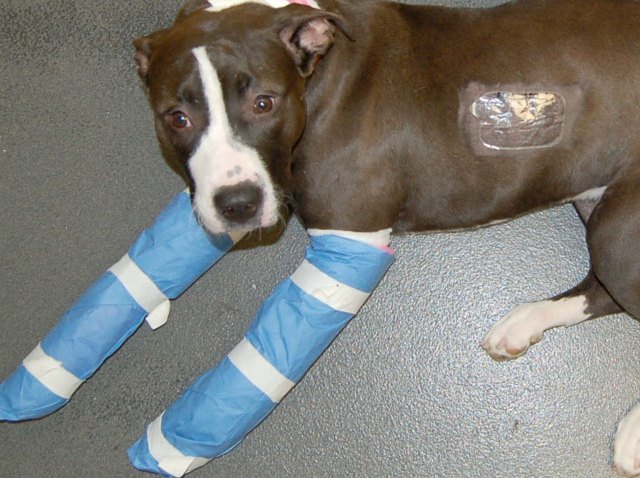 A cold-hearted Brooklyn teen threw his pup off the roof of a housing project but the resilient pooch survived the six-story fall, ASPCA officials said.
Fabian Henderson, 19, initially confessed to cops of carrying out the ruthless act on his 1-year-old female terrier mix, Oreo, at the Red Hook Houses on June 18. But he did not give a reason and later withdrew the admission, the New York Daily News reported.
The fall required emergency surgery for Oreo's shattered front legs and caused internal injuries, said Joe Pentangelo, ASPCA's assistant director.
"She is healing [ under ASPCA care], but it is a long road ahead," Pantangelo told the New York Post.
Neighbors fingered Henderson as the culprit, but the teen's mother refused to believe it. Samantha Henderson told the News she'd never even seen Oreo.
Fabian was always "good with animals," she said, especially Diamond, the family's pit bull mix.
But on June 6, Henderson received a summons for walking a dog without a leash that matched descriptions of the miracle dog, cops said.
Cops charged Henderson Friday with aggravated cruelty to animals, which carries a two year jail penalty. The teen has also been charged with reckless endangerment and criminal trespass, Pentangelo told the News.