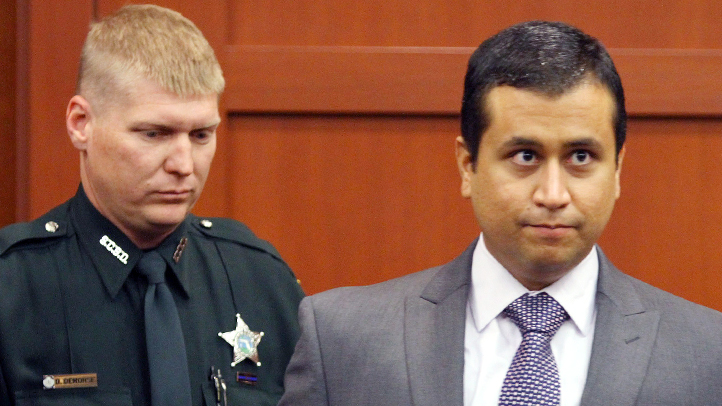 A woman, who is a relative of George Zimmerman, claims he sexually molested her throughout her childhood, according to an interview released by prosecutors Monday.

The woman, who was identified as "Witness #9" by prosecutors, claimed in the March 20 interview that the abuse began when she was 6 years old and Zimmerman was around 8. NBC News attempted to talk to the witness, but she turned down attempts at getting comment about the interview. We have been unable to independently verify her statements, no police report was made in connection with these allegations and no charges were filed.
PHOTOS: Zimmerman Crime Scene Photos

"We would watch movies in front of the TV and we would all lay in front of the TV and we would have pillows and blankets," the woman claims. "And he would reach under the blankets and try to do things and I would try to push him off but he was bigger and stronger and older. It was in front of everybody and I don't know how I didn't say anything but I just didn't know any better."

In a second interview, the woman told authorities that Zimmerman and his family don't like African-Americans.

"Growing up, they've always made, him and his family have always made statements that they don't like black people if they don't act like white people. They like black people if they act white," she said. "And other than that, they talk a lot of bad things about black people."

When asked if she could recall any specific instances of Zimmerman making a racist statement, Witness #9 said she couldn't.
"Now that this statement is part of the public record, the defense will vigorously defend Mr. Zimmerman against the allegations. In the next several weeks, there will be reciprocal discovery filed regarding Witness #9's statement," said a statement posted on the Zimmerman defense's legal case website as part of a longer statement regarding the witness.
PHOTOS: Zimmerman Case Photos

The interviews were part of a new group of evidence released by prosecutors in the case, which includes 120 phones calls Zimmerman made from the Seminole County Detention Center following his arrest in the Martin shooting.

Zimmerman, 28, is charged with second-degree murder in the Feb. 26 shooting of Martin, 17, in a gated community in Sanford. He has pleaded not guilty, claiming the shooting was in self-defense.

Witness #9 said the alleged sexual abuse began when she was staying at the Zimmerman house.

She said the alleged abuse happened at least a few times, when she would visit. The woman said he would kiss and grope her, and one time allegedly exposed himself to her.

"Every time that we would go up there, I could just look at him and he would give me a certain look and I would know if it was gonna happen when we got together for family gatherings cause he just got this look in his eye like he was going to," she said.

She claims the final attack came when she was 16 and stopped by his house in Lake Mary and he wanted to give her a massage. She claimed she ran out of the house and drove away.

The woman told authorities she was afraid of him and was worried no one would believe her.

"Georgie always made himself look so good, he just sucked up to my dad and he was like the son he never had, and he always was just, you know, very charming and personable with everybody in the family and just always would laugh and entertain everybody," she said. "But he was different behind closed doors with me."

She said her parents found out and confronted Zimmerman at a Lake Mary restaurant when she was around 20 years old. The woman said Zimmerman said he was sorry and walked out.

"He sat down on the end of the booth and said 'I'm sorry' and just got up and walked out," she said.

No police reports were ever made and no charges were ever filed against Zimmerman, however.

When asked why she was coming forward now, the woman said she wasn't afraid of him anymore.

"This is the first time in my life that I'm not afraid of him. I know that nothing can get to me, he can't get to me," she said.

The jail calls released Monday were made by Zimmerman following his arrest in April.

Zimmerman's attorney, Mark O'Mara, had argued against the release of the calls and witness interviews, claiming they are irrelevant to the charges against him and could jeopardize his friends and family if they are released.

But Circuit Judge Kenneth Lester disagreed, and ordered them released on Friday. O'Mara filed a motion Monday morning to try to block their release again but prosecutors released them anyway.

"As the State Attorney previously stated, she certainly would be a rebuttal witness very similar to that in the Sandusky trial showing that he has a history of violence and manipulation. Zimmerman's mentality is very relevant to this trial," Martin family attorney Benjamin Crump told NBC News in an email statement.

Zimmerman remains free on $1 million bond.