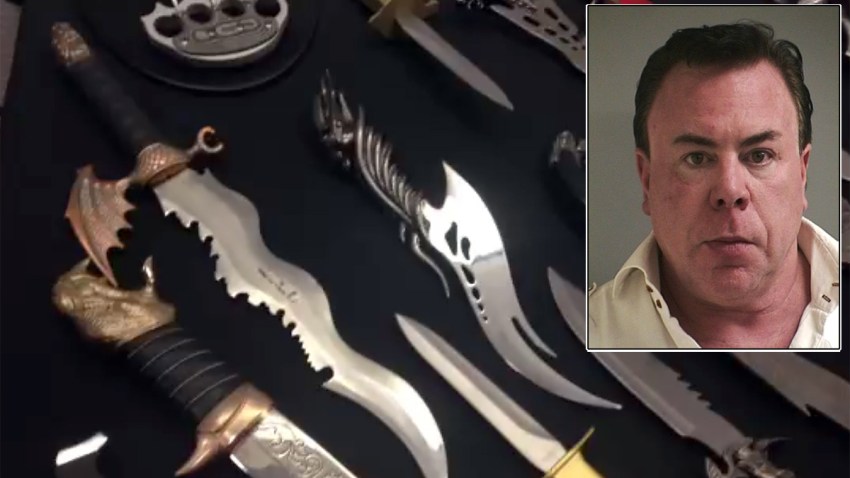 A Long Island cardiologist has been indicted for allegedly contracting hitmen to kill a competing doctor in a murder-for-hire conspiracy that included the sale of assault weapons, arson and the criminal sale of prescription drugs, prosecutors said Monday.
Anthony Moschetto, 55, of Sands Point, was arrested in April after joint investigation by the Nassau County district attorney and police department as well as the U.S. Drug Enforcement Administration.
Moschetto was arraigned Monday on a 77-count indictment handed down by a grand jury that charges him with arson, burglary and multiple counts each of conspiracy, criminal solicitation, arson, weapons and drug charges in connection with the alleged plot.
He pleaded not guilty and is due back in court next month.
Prosecutors allege Moschetto began selling prescription drugs and weapons after a professional dispute with the other doctor, who was at one time his employer.
Undercover police investigating prescription drug sales in the county in December stumbled upon the alleged murder and arson plots, prosecutors said. The officer began by buying oxycodone, but was able to buy heroin and guns in February. Police later discovered that the guns and drugs were allegedly purchased by Moschetto before being transferred to the seller.
During one of the buys, the seller asked the undercover officer if he could get dynamite to blow up a building, prosecutors said. A few months later, the seller told the undercover officer that he no longer needed the dynamite because he had another man burn down the doctor's office in Great Neck in February. A third man was also allegedly involved in the arson, which didn't destroy the office.
Later, prosecutors said, Moschetto gave a confidential informant and an undercover cop blank prescription pads and cash on separate occasions to have the rival doctor attacked and then killed. The doctor allegedly told the informant and officer that they should attack the doctor's wife if she was present during the initial beating, then suggested that the would-be hit men kill the rival cardiologist with a gun he was known to carry.
Two other men were arrested on multiple charges including arson and burglary, in the alleged conspiracy.

A search warrant execution at the home of Moschetto following the three arrests led to the discovery of a cache of weapons in the doctor's home, including an AR-15 and an M1 Carbine, prosecutors said. Many of the guns and other weapons such as knives were found in a hidden basement room only revealed via a switch-activated, moving bookshelf in the doctor's home, prosecutors said.
In April, Moschetto's attorney said his client was eager to return to work.