What to Know
Jerry Don Elders, 39, was taken into custody in Gainesville after a stolen vehicle he was believed to be traveling in was spotted by a license plate reader and tracked by police.
A woman identified by Burleson Police as Robin Waddell, 61, was carjacked outside a Burleson home after the officer was shot. She turned up at the Joshua PD with multiple gunshot wounds and later died from her injuries, Burleson police said.
Burleson Police Officer Joshua Lott is in stable condition with injuries not considered life-threatening. Lott was shot at least three times in the chest, shoulder and neck.
The man suspected of shooting Burleson Police Officer Joshua Lott multiple times during a traffic stop Wednesday morning and then kidnapping and killing a woman is in police custody after an hours-long manhunt, police say.
The Burleson Police Department identified the woman killed as Robin Waddell late Wednesday evening.
Burleson Chief of Police Billy Cordell said Wednesday afternoon that they were looking for 39-year-old Jerry Don Elders in connection with the shooting of both the officer and the woman and said he was to be considered "armed and dangerous."
A man and a woman who were believed to be in the car with Elders at the time of the shooting have been located. It's not clear if they will face charges.
Cordell said just after 2 p.m. Wednesday that shortly after issuing the Blue Alert investigators got a hit from a license plate reader in Denton County for a stolen Toyota Tacoma they believed Elders was driving.
A Texas State Trooper located the truck on Interstate 35 and tried to make a traffic stop but the driver refused to pull over. After a short pursuit, the occupant of the truck tried to get away on foot and hide in a wooded area but was taken into custody by Cooke County Deputies, officials confirmed.
"The person we believe shot our officer and was likely involved in the death of a lady is in custody now," Cordell said Wednesday afternoon.
Elders was held in the Cooke County Jail before being returned to Johnson County overnight Thursday. He's currently being held on a bond of $1,010,000 for the charge related to the officer's shooting as well as an outstanding warrant for felony possession of a controlled substance that was active prior to Wednesday's events. No other charges have been announced and it's not clear if Elders has representation.
The officer, identified by the department as Joshua Lott Wednesday afternoon, is in stable condition with injuries that are not considered to be life-threatening, Cordell said.
The chief added Wednesday afternoon that Lott was struck in the chest, shoulder and neck, the latter being a through-and-through wound where the bullet exited the officer's body.
"The officer, it's really a remarkable story," Cordell said, of the officer's survival. "It's an amazing story. I visited with him at the hospital, he is alert, he's in stable condition and speaking. We're just very thankful. It could have been a very different outcome. We're very thankful this officer is going to recover."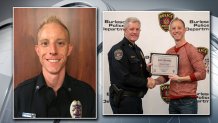 Lott was shot early Wednesday morning after pulling over a driver due to an "equipment violation" at about 4:15 a.m. along the 1100 block of Southwest Hillside Drive, near the Burleson High School campus.
When Lott approached the passenger side front door and turned toward the window, someone in the driver's seat reached across the passenger side of the car and fired multiple shots through the window, striking him multiple times.
The group drove off and abandoned the vehicle about two miles away along Southeast John Jones Road. Cordell said it appeared the group may have tried to set the vehicle on fire or they encountered some kind of trouble with the vehicle that led to the fire.
Cordell said police believe the trio then carjacked Robin Waddell outside a home on the 8000 block of County Road 802 in Burleson.
At 8:44 a.m., the woman showed up at the Joshua Police Department suffering from gunshot wounds. She was taken to Huguley Hospital South in Burleson where she later died.
Her family told NBC 5 that the 61-year-old grandmother was a caretaker for her 88-year-old father.
At a second news conference Wednesday afternoon, Cordell did not confirm Elders' connection to the woman's death but said because he was found in her vehicle they believe he may be involved.
"Number one you have a person with two felony warrants that does not want to go back to jail obviously, shot a police officer and then stole a car ... by knocking on a woman's door and taking her, if in fact that proves to be him, we believe there's certainly a connection, he was fleeing in her vehicle," Cordell said. "We are extremely relieved he is in custody."
Cordell said investigators are still working to determine when the woman was shot and how she got to the back door of the Joshua Police Department.
Lott, meanwhile, was taken by another officer to John Peter Smith Hospital in Fort Worth for treatment. He was "lucid and speaking" when he was being transported to the hospital, Cordell said.
Lott joined the Burleson Police Department in 2017 and was described by the chief as an "outstanding officer." In his short tenure with the department, Lott has been recognized several times and earned life-saving awards in 2018 and 2020. He was awarded a police commendation in 2019 for his work in recovering seven motorcycles at Burleson Power Sports.
On Wednesday, officers from different departments in the area filed into JPS hospital to show support for the injured officer. Among them was Tarrant County Sheriff Bill Waybourn who said he wanted to check on the officer's family.
"You're going to see police officers come in and out of here, and deputy sheriffs and constables -- they're all going to show up because that's our brother out there and we know he's our brother in arms. We want to make sure that he and his family are OK," he said. "We as a community will certainly get through this but it just reminds us of the day-to-day danger that our noble people in law enforcement see."
"We appreciate all of the support that we're getting, the outpouring of support from so many people. Can't tell you how much that means to us and to this officer," said Cordell. "Our thoughts and prayers are with him and we ask our community to be praying for him as well."
At a vigil Wednesday evening, dozens of people gathered on the front parking lot of the Burleson police station.
"Pray for one another, pray for the Waddell family," vigil organizer Matthew Gee said. "This town was rocked today. It hasn't been rocked like this in a very long time."
Cordell said it's remarkable that Officer Lott survived. His thoughts are also with the Waddell family.
"For Officer Lott, it's been a best case scenario. He's doing well. He is going to recover and he is a very lucky man," he said. "For the Waddell family, nobody had a way of knowing how this day was going to start and how this tragic ending was going to be."
The Texas Rangers, who spent much of the day investigating Lott's Burleson home, are leading the investigation into the shooting while other agencies are volunteering resources and equipment to aid in the investigation.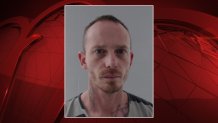 NBC 5 learned Wednesday afternoon that Elders has a lengthy criminal history in Johnson County, Tarrant County, Fort Worth, Crowley, Burleson and Dalworthington Gardens. According to public records, his arrest record goes back 22 years to when he was 17 and includes convictions for unlawful possession of a controlled substance, unlawful possession of a firearm, theft of property and attempted burglary.
The shooting is at least the fourth involving a Texas law enforcement officer in recent weeks. An Austin police officer was shot and wounded Friday, while a state trooper was shot and wounded during a manhunt for a man accused of opening fire on a cabinet business. And late last month, a state trooper was fatally shot during a traffic stop near Mexia, about 75 miles southeast of Dallas.
NBC 5's Alanna Quillen and Scott Gordon contributed to this report.