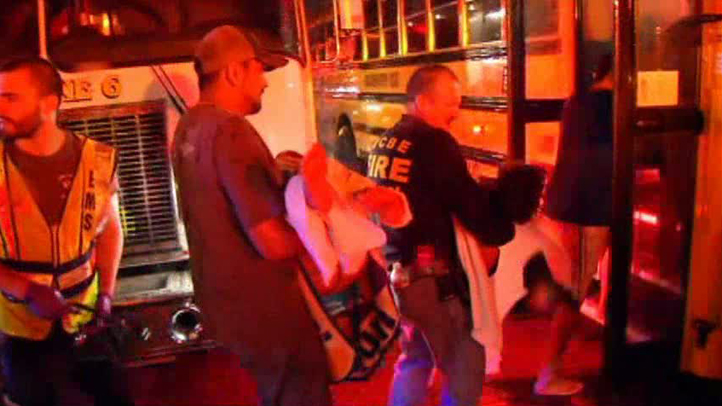 As residents in Hood, Johnson, and Ellis counties begin the rebuilding process after Wednesday night's outbreak of tornadoes, those wish to assist have a number of options.
The Red Cross is providing relief funds to the area through their general disaster relief fund. Those who wish to contribute can text REDCROSS to 90999 and give $10 to the fund.
Kroger grocery stores will also have coin boxes set up at all North Texas stores that will send the funds collected to the Red Cross Disaster Relief Fund. Kroger also sent food to shelters in Granbury and Cleburne.
Local
The latest news from around North Texas.
Additionally, the organization has set up two shelters in Hood County for victims. They are located at First Christian Church, 2109 West Hwy 377 in Granbury and First United Methodist Church, 301 Loop 567 in Granbury.
The group is also working to set up a shelter for victims in Johnson County.
The Red Cross suggests calling 866-505-4801 for assistance if there is damage to your home.
The Salvation Army is also providing services to the areas damaged by tornadoes. The organization is providing mobile disaster kitchens to Granbury, Cleburne, and possibly other areas. One kitchen is scheduled to serve meals for up to 125 people today in Cleburne
The group is looking for monetary donations to help them feed survivors and provide other care kits. Click here for more information.
Hood County sheriffs say anyone that wishes to volunteer should report to the First United Methodist Church, 301 Loop 567 in Granbury. Volunteers should meet on the Loop side and look for the CERT trailer, according to a press release.
April Mitchell with Mission Granbury, Inc. said Thursday that the group will be helped by churches in the community about 40 miles southwest of Fort Worth.
People wishing to donate supplies and other emergency items can call Mission Granbury at 817-579-6866.
Mitchell says Mission Granbury last year served nearly 26,000 individuals with assistance for crime victims, a food bank, housing and financial services.
Those who are looking for loved ones in the Granbury area should call 817-579-2888 to get info from Lake Granbury Hospital.
The Humane Society of North Texas has traveled to the area to help assist with pets. In partnership with Hood County Animal Control, HSNT team members went door-to-door to rescue trapped animals and rescued about 50 dogs and cats as of Thursday morning.
HSNT teams are trucking animals that were up for adoption in Hood County to Fort Worth shelters in order to free up space in Hood County for displaced pets.
The society is looking for donations of dog and cat food as well as cat litter at the HSNT location at 1840 E. Lancaster Avenue in Fort Worth. Cash donations are also welcome, the group said.
In Ellis County, the SPCA of Texas transported 12 dogs to McKinney to free up space for displaced pets in that area. The group said they are also ready to transport animals from Granbury Animal Control, if needed.
Additional emergency resources and ways to help tornado victims will be posted as we receive more information.
Copyright AP - Associated Press