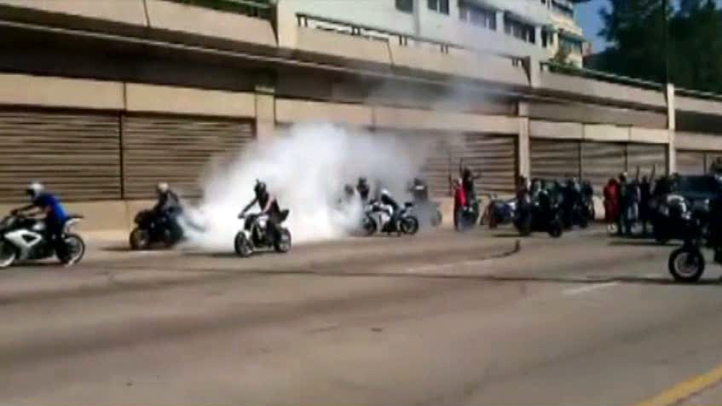 Dallas police are reviewing cellphone videos and photos of a group of motorcyclists who shut down northbound Central Expressway on Memorial Day weekend to perform stunts.
While police don't typically chase sport bikers because it can endanger even more people on the road, they do plan to use technology to track them down.
"It's a serious problem," Deputy Chief Brian Harvey said. "We have to maintain order for everyone who uses transportation system."
Local
The latest news from around North Texas.
Cellphone videos posted on YouTube show motorcyclists performing tricks and spray-painting graffiti on U.S. 75, shutting down the freeway for nearly four minutes. Police are using the photos and videos to try to identify the bikers.
"Operating a vehicle in that manner is illegal," Harvey said. "It's called reckless driving. It endangers other drivers on the roadway."
Harvey said the Dallas Police Department is working with regional partners such as the North Texas Tollway Authority to pinpoint when and where reckless rides take place.
Harvey said he is also interested in talking with motorcycle groups to devise a safe time and place for them to ride.
Amateur photographer Theresa Bello was a passenger in her husband's car as the bikers blew past.
"It was just horrifying to watch, just horrifying," she said.
She snapped pictures of a biker standing on his seat without his hands on the handlebars and of another biker with both feet on the highway.
"Nobody that was driving around them was able to properly drive because we had to be watching what was the next thing to happen with these bikes," Bello said.
"There needs to be a consequence," Bello said. "You have to drive safely, it's a privilege and a responsibility that comes with driving a vehicle."
Drivers who come across dangerous bikers should get their license plate numbers.
In Dallas, people can report incidents using iWatchDallas, an app for iPhones and Blackberries that lets people report tips anonymously 24-7. Police said two of the tips on last weekend's highway shutdown came from iWatchDallas.