Storms ripped through North Texas Sunday night, with high winds, lightning, heavy rain and a tornado causing road closures and damage to buildings. Thousands have been left without power across Dallas, Collin, Denton, Ellis and Tarrant counties.
Road closures will impact drivers across North Texas as emergency services work to clear and repair roadways. Commuters are being urged to avoid areas affected by the overnight storms.
Dallas
Following the severe weather and tornadoes that affected Dallas County on Sunday, Dallas County Judge Clay Jenkins signed a local declaration of disaster Monday morning. Jenkins said that the purpose of the declaration is to facilitate resource development, and that the situation has not worsened.
Jenkins also warned drivers in Dallas County about road conditions, saying, "if you drive your car any distance, you may run over debris that will puncture your tires and could lead to flat tires and blowouts, so please drive carefully."
According to the City of Dallas, there are 100 traffic signals without power, 85 signal lights are flashing and multiple signal lights were knocked down. Emergency crews are responding for repairs. Residents should call 3-1-1 to report downed traffic lights.
Delays were reported on Interstate 35 East in northbound lanes due to structural damage and debris. Signal light malfunctions, downed power lines, and power outages were also reported in the area.
Local
The latest news from around North Texas.
Walnut Hill Lane is closed at Harry Hines Boulevard due to extensive tornado damage. Harry Hines Boulevard is also closed at this intersection.
Heavy debris was reported at the intersection of Walnut Hill Lane and Marsh Lane. A nearby shopping center was heavily damaged during Sunday's storms, causing the front facade of the building to peel off.
The Dallas North Tollway northbound exit ramp to Royal Lane was blocked due to storm damage and subsequently closed for storm clean up at about 6 a.m. The tollway is backed up to Lemmon Avenue.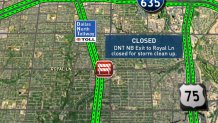 According to the City of Dallas, further street closures in North-Central Dallas include:
Hillcrest Road/Walnut Hill Lane
Hillcrest Road/Royal Lane
No Westbound Royal Lane at St. Michaels Drive
No Northbound St. Michaels Drive at Royal Lane
Preston Road/Royal Lane
According to the City of Dallas, further street closures in Northwest Dallas include:
Harry Hines Boulevard/Manana Drive
Denton Drive/Lombardy Lane
Walnut Hill Lane/Monroe Drive
Harry Hines Boulevard/Freewood Drive
Walnut Hill Lane/Webb Chapel Road
Walnut Hill Lane/Midway Road
Shady Trail/Andjon Drive
Walnut Hill Lane/Marsh Lane
Walnut Hill Lane/Woodleigh Drive
Preston Road/Norway Road
Shady Trail/Southwell Road
Webb Chapel Road/Kinkaid Drive
Marsh Lane/Woodleigh Drive
Walnut Hill Lane/Shady Trail
Harry Hines Boulevard/Brenner Drive
Richardson
According to the City of Richardson, emergency service workers responded to multiple reports of damage located primarily in the south-central part of the city. First responders reported multiple downed trees and damaged buildings with debris blocking roads.
First responders assessed the damage and conducted search and rescue activities. Road crews worked to clear blocked roadways and repair downed traffic lights.
The City of Richardson also said that major thoroughfares used by thousands of morning commuters will be closed while the repair work is underway.
Major roads currently closed and under repair are:
Centennial Boulevard between Bowser and Grove roads.
Abrams Road between Buckingham Road and Park Bend Drive.
Bowser Road between Centennial Boulevard and Buckingham Road.
Coit Road at Spring Valley Road (open but treated as a 4-way stop)
Irving
High water blocked part of State Highway 183 westbound near Valley View at about 7:40 a.m. Delays were reported past State Highway 161. The incident was cleared by 9 a.m.
Airports
Airports in North Texas were also impacted by Sunday's storms.
At Dallas-Fort Worth Airport, 75 flights were cancelled and 174 flights were delayed.
At Dallas Love-Field Airport, 18 flights were cancelled and 52 flights were delayed.
DART
Overnight storms also caused DART delays around Dallas.
According to DART, Orange and Red line passengers should expect delays and look for shuttle buses between Park Lane and Spring Valley stations.
Green Line passengers should expect delays and look for shuttle buses between Farmers Branch and Bachman stations.
Blue Line passengers should expect delays due to signal problems and debris cleanup between downtown Garland and downtown Rowlett stations.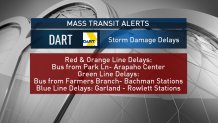 Check back and refresh this page for the latest developments.