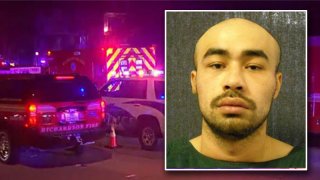 The Collin County District Attorney will seek the death penalty for Brandon McCall, the man accused of fatally shooting two men, including a Richardson police officer, in February.
McCall, 26, faces two charges of capital murder and seven charges of aggravated assault in connection with the Feb. 7 shooting.
Investigators said McCall fatally shot Rene Gamez II inside Gamez's apartment and then shot Ofc. David Sherrard, who responded to a call about the disturbance. Gamez, according to his mother, was helping McCall by allowing him to stay at his home.

A Collin County grand jury returned the indictments Thursday saying McCall killed the two men and then fired on seven Richardson police officers during his capture.
Following the indictments, Collin County District Attorney Greg Willis filed with the District Clerk his Notice of Intent to Seek the Death Penalty.
The Collin County District Attorney's Office thanked their partners at the Richardson Police Department and the Plano Police Department for their hard work and efforts seeking justice in this case.