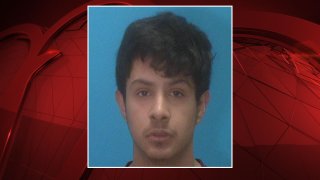 An 18-year-old man is accused of stabbing a stranger who was taking her trash out Monday evening, Lewisville police say.
The victim had been taking out her trash about 6:30 p.m. on Winston Drive, near Valley Ridge Boulevard, when Guadalupe Buenaventura approached her and asked a question, police said.
The woman replied and Buenaventura reportedly stabbed her. She remained hospitalized Thursday.
Police said Buenaventura ran away after the victim kicked him. He was arrested Tuesday and charged with aggravated assault with a deadly weapon.
Buenaventura was transferred to the Denton County Jail on Thursday.
UT Arlington confirmed that he had enrolled at the school starting in January 2020.
Police said that earlier in the day, the suspect had approached a man and a woman in separate instances. In one case, he asked if they had seen a dog, and in another he asked if the person had seen a little girl, police said.
Local
The latest news from around North Texas.
No one was injured in those encounters.