What to Know
An armed man took four hostages during a live-streamed Shabbat service at Congregation Beth Israel in Colleyville Saturday morning.
The man was reportedly attempting to free Aafia Siddiqui, a convicted terrorist being held at Federal Medical Center Carswell in Fort Worth.
The hostages were all rescued and were unharmed; the hostage-taker is deceased.
Four hostages held inside a Colleyville synagogue Saturday are "out, alive and safe" and the man who held them captive for nearly 12 hours is dead, officials say.
Colleyville police and the FBI gave a briefing shortly after 10 p.m. Saturday to confirm the standoff had been brought to a close and that the four hostages being held captive inside Congregation Beth Israel had been rescued and were unharmed.
The man who took them hostage was deceased, shot when a hostage rescue team breached the synagogue at about 9:30 p.m. Special Agent in Charge Matthew DeSarno of the FBI Dallas Field Office confirmed Sunday the identity of the hostage-taker as 44-year-old Malik Faisal Akram, 44, a British citizen.
It was about that time that NBC 5 crews nearby heard what sounded like a loud bang. A few minutes later, Gov. Greg Abbott tweeted at 9:33 p.m. that all of the hostages had been rescued.
"Prayers answered. All hostages are out alive and safe," Abbott tweeted.
FBI Dallas Special Agent in Charge Matt DeSarno said late Saturday night at a press briefing that the hostage-taker had been identified but that they were not prepared to release or confirm his identity to the public citing an ongoing investigation into the man's background.
Two teenagers were arrested in South Manchester by officers from the Counter Terror Policing North West, an alliance of police forces in the United Kingdom, on Sunday in connection with the standoff at the synagogue. They remain in custody for questioning.
DeSarno credited a team of hostage negotiators for skillfully engaging the man throughout the day with consistent, professional communication that he said likely saved the lives of the four hostages.
DeSarno added that the man appeared to be singularly focused on one issue and that his issue was not connected to the Jewish community.
None of the hostages have been identified, but one is believed to be the synagogue's only rabbi, Charlie Cytron-Walker. The rabbi posted on Facebook at about 4:45 a.m. Sunday that he was thankful for his family, community, the prayers and the first responders, adding that he was thankful to have made it out and was thankful to be alive.
One of the hostages was released earlier in the evening, though it's not yet clear why the man was freed. The other three hostages were rescued at about 9:30 p.m. and all were unharmed.
Early on Sunday morning, Colleyville Police said residents who were evacuated from the area during the standoff were allowed to return to their homes overnight.
The roads around the synagogue will also remain closed as the investigation continues.
MAN TAKES HOSTAGES INSIDE COLLEYVILLE SYNAGOGUE
An unidentified man entered Congregation Beth Israel in Colleyville at about 10:30 a.m. Saturday and held four people captive in a reported attempt to free a Pakistani woman with ties to al-Qaeda, leading to a standoff with law enforcement that lasted nearly 12 hours.
The Colleyville Police Department tweeted at about 11:30 a.m. Saturday that it was conducting SWAT operations at the address of Congregation Beth Israel on Pleasant Run Road. Colleyville Police spokeswoman Sgt. Dara Nelson later confirmed to NBC 5 that there were in communication with someone inside the synagogue and that there were other people inside as well.
At least four hostages were confirmed being held captive in the synagogue, including the synagogue's rabbi.
NBC News has learned from three senior law enforcement officials briefed on the matter that the hostage-taker had the rabbi call a rabbi in New York City to say he was being held hostage and that the hostage-taker wanted his "sister" set free. NYPD counter-terrorism teams are at the synagogue belonging to the New York rabbi who received the call from Texas.
Harold Gernsbacher, chair of the Secure Community Network, an organization dedicated to the safety and security of the American Jewish community, told NBC 5 early Saturday afternoon that they, too, believed the man entered the synagogue and took hostages in an attempt to free an imprisoned woman.
"To our understanding, there is a single man … he is very concerned about a female that was [to be] incarcerated for 85 years on a significant list of terroristic charges. His objective, what he has said, is to work to free that person," Gernsbacher said. "I've spoken with many people in Israel and our community is heartsick over what we're seeing here today and can only hope this ends peacefully."
U.S. Rep. Beth Van Duyne (R-TX 24th District), whose district includes Colleyville, said during a phone interview with NBC 5 late Saturday afternoon that she had learned one of the hostages may have been released due to a medical issue. Police later said confirmed a man had been released unharmed and was going to be reunited with his family, but that he did not require any medical attention.
ARMED MAN SEEKS RELEASE OF TERRORIST
Several federal law enforcement officials tell NBC 5 Investigates and our partners at NBC News that the man holding people hostage is claiming to be related to Aafia Siddiqui, a Pakistani scientist sentenced to federal prison in 2010 for firing shots at US soldiers and federal agents in Afghanistan. Law enforcement officials briefed on the situation said that the man inside the synagogue is asking for her release.
According to Federal Bureau of Prisons records, Siddiqui is currently being held at the Federal Medical Center Carswell in Fort Worth, about 25 miles west of where the situation at the synagogue is unfolding.
The FBI has identified the hostage-taker but have not shared his name publicly. The Council on American-Islamic Relations tweeted shortly before 6 p.m. that their Houston chapter had confirmed from CAIR-Houston Board Chair John Floyd, long-time legal counsel for the brother of Aafia Siddiqui, that his client is not the person responsible for the incident in Colleyville.
Siddiqui was arrested by Afghan authorities in 2008 and found in her possession were handwritten notes that referred to a "mass casualty attack" and a list of various locations in the United States, including Plum Island, the Empire State Building, the Statue of Liberty, Wall Street, and the Brooklyn Bridge.
During interrogation at an Afghan base, prosecutors said Siddiqui grabbed a rifle and fired shots at US soldiers and federal agents. An FBI agent and a US soldier were injured in the incident.
There were concerns at the time of her sentencing that her imprisonment might inspire retaliatory attacks, though Siddiqui appealed to her supporters for calm.
LIVESTREAM RECORDS MAN IN SYNAGOGUE
A Shabbat service was underway and being live-streamed on the synagogue's Facebook page and on Zoom when an armed man walked into the synagogue and took four hostages. The live stream continued for a time. The Fort Worth Star-Telegram reported that an angry man could be heard ranting and talking about religion at times during the live stream, though you couldn't see what was happening inside the synagogue.
Victoria Francis told The Associated Press that she watched about an hour of the live stream before it cut out. She said she heard the man rant against America and claim he had a bomb.
"He was just all over the map. He was pretty irritated and the more irritated he got, he'd make more threats, like `I'm the guy with the bomb. If you make a mistake, this is all on you.' And he'd laugh at that," she said. "He was clearly in extreme distress."
DeSarno said Saturday night that investigators had not found any validity to the man's claims about having any explosives.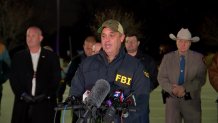 Francis, who lives in Rhome and grew up near Colleyville, tuned in to the live stream after she read on Facebook that there was a hostage situation at the synagogue. She said it sounded like the man was talking to the police department on the phone, with the rabbi and another person trying to help with the negotiations.
Shortly before 2 p.m., the man said, "You got to do something. I don't want to see this guy dead." Moments later, the feed cut out.
The man, who used profanities, repeatedly mentioned his sister, Islam and that he thought he was going to die, the Star-Telegram reported.
When the live stream cut out, the man was getting pretty irate, Francis said.
"It's a scary situation. I'm hopeful it ends the best way it can, obviously with no one hurt," she said. "Especially in this area, you never think something like this is going to hit home until it does."
FBI JOINS INVESTIGATION
FBI Dallas spokeswoman Katie Chaumont said early Saturday afternoon an FBI SWAT team had been called to the scene and that crisis negotiators had been communicating with someone inside the synagogue.
She could not say whether the person was armed and she declined to describe what the person had said to authorities, citing operational sensitivity.
Police were first called to the synagogue around 11 a.m. and people were evacuated from the surrounding neighborhood soon after that, Chaumont said.
"It's an evolving situation, and we have a lot of law enforcement personnel on scene," Chaumont said.
DeSarno said late Saturday night that the FBI flew 60-70 people to North Texas from Washington D.C. that was part of their hostage rescue team.
WHITE HOUSE, WORLD WATCHES EVENT UNFOLD
White House press secretary Jen Psaki tweeted Saturday afternoon that President Joe Biden had been briefed and was receiving updates from senior officials.
After the hostages had been rescued unharmed, President Biden released the following statement late Saturday night.
"Thanks to the courageous work of state, local, and federal law enforcement, four Americans who were held hostage at a Texas synagogue will soon be home with their families. I am grateful to the tireless work of law enforcement at all levels who acted cooperatively and fearlessly to rescue the hostages. We are sending love and strength to the members of Congregation Beth Israel, Colleyville, and the Jewish community. There is more we will learn in the days ahead about the motivations of the hostage-taker. But let me be clear to anyone who intends to spread hate—we will stand against anti-Semitism and against the rise of extremism in this country. That is who we are, and tonight, the men and women of law enforcement made us all proud." President Joe Biden
Israeli Prime Minister Naftali Bennett said he was monitoring the situation closely. "We pray for the safety of the hostages and rescuers," he wrote on Twitter.
Israel's consul general in Houston is on her way to the scene of the incident, Foreign Minister Yair Lapid said in a statement, adding that Israeli officials "are in close contact with American law enforcement agencies."
In nearby Dallas, Mayor Eric Johnson said the police department was adding extra patrols near synagogues and other sites.
In response to the incident in Colleyville, New York City Mayor Eric Adams said steps are being taken to boost security in key Jewish areas around the city.
"The New York Police Department Intelligence Bureau and the Joint Terrorism Task Force are in close contact with local police and FBI officials in Texas. Out of an abundance of caution the NYPD has deployed additional resources to key Jewish locations around the city Saturday," Adams said. "I have been fully briefed by Police Commissioner Sewell and I'm confident we are taking the right steps. We hope and pray for a peaceful resolution of the situation in Texas and we will continue to monitor the situation."
This is a breaking news story. Please check back for updates. NBC 5's Frank Heinz, Scott Friedman, Scott Gordon, Lili Zheng, Allie Spillyards, and Hannah Jones contributed to this report. Portions of this report were also taken from NBC News and The Associated Press.
NBC 5 News and The Associated Press.