Longtime North Texas Congressman and military aviator Sam Johnson was memorialized Monday, more than a week after he died of natural causes at a Plano hospital.
The Plano Republican died on May 27, at age 89.
A private graveside service with military honors will take place at Restland Memorial Park Cemetery in Dallas. As part of the private service, the U.S. Air Force Thunderbirds will perform a flyover in Johnson's honor.
Johnson flew nearly 100 combat missions in Korea and Vietnam. He was flying a bombing mission in 1966 when he was shot down and wounded. He was imprisoned in the infamous "Hanoi Hilton" for nearly seven years, mostly in solitary confinement. He retired from the Air Force as a colonel in 1979, after a 29-year career.
The ardent conservative and anti-communist was elected to Congress in 1991 after six years in the Texas House of Representatives. He vowed to stay a maximum of 12 years, though he served more than double that.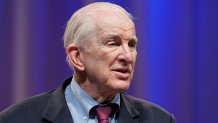 Johnson had been a POW with U.S. Sen. John McCain, and although they clashed in Congress, Johnson defended McCain in 2015, when then-presidential candidate Donald Trump suggested he wasn't a hero because he'd been captured. Johnson announced in January 2017 that he would retire at the end of his term. When Johnson stepped down in 2019, at age 88, he was the oldest member of the U.S. House.
"Scripture tells us `There is a time for everything, and a season for every activity under heaven,"' Johnson wrote in a January 2017 letter to constituents, telling them he would retire at the end of his term. "For me, the Lord has made clear that the season of my life in Congress is coming to an end."
Johnson's wife died on Dec. 3, 2015 at their home in Plano at age 85. He is survived by his adult daughters, Gini Johnson Mulligan and Beverly Johnson Briney, and 10 grandchildren. His son, James Robert "Bob" Johnson, died in 2013 at age 61.
NBC 5 and the Associated Press