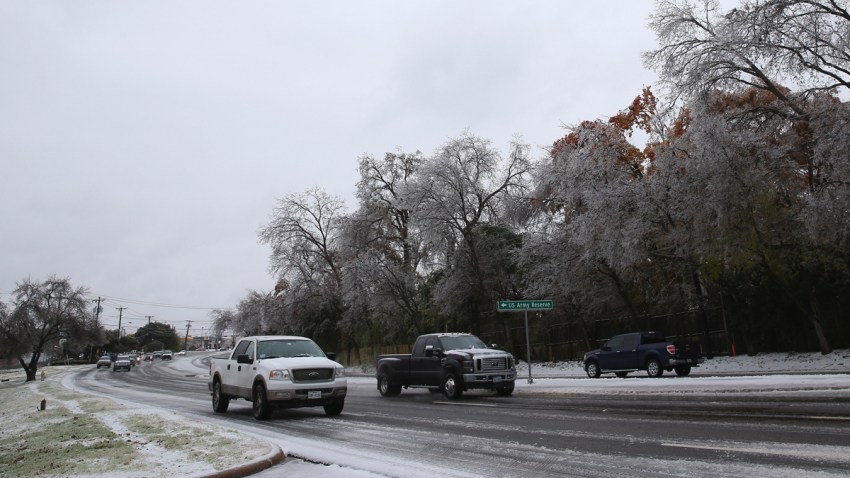 The snowplows were ready, the sand trucks deployed. Officials felt this month's ice storm -- unlike the one that paralyzed the region during the 2011 Super Bowl week -- would be handled better.
But the ice came down thicker than expected, the snowplows did little good and before the proper equipment could be relocated, the Dallas-Fort Worth area was again locked in ice.
Now officials are left to assess what went wrong and how they can better prepare when the next major winter storm grips North Texas.
Local
The latest news from around North Texas.
The storm left some North Texas roadways with up to 4 inches of ice and took several days to thaw out as crews struggled to get ahead of the problem. Deliveries stopped. Gas pumps ran dry. Stores ran out of milk and water. Some of those who did brave the treacherous roadways found themselves stranded in frigid temperatures.
Motorists noticed the delay.
Three days after the freeze took hold, Tony Boulton mistakenly thought the roads would be clear enough Monday to make a relatively easy drive from his Grapevine home to a doctor's appointment in Dallas. He instead encountered especially
icy conditions near Dallas-Fort Worth International Airport
that had traffic moving at about 5 mph.
"It seems to me most winters we have one period or another of a week or so where we get snow and ice or whatever, but we're not geared up for dealing with it," Boulton said.
The region experienced a similar situation in February 2011, when a winter storm paralyzed the Dallas-Fort Worth area with ice in the days before the Super Bowl was played in suburban Arlington.
Less than a year later TxDOT announced that 29 snow plows would be stationed in the area, but Hartzel said last weekend's storm was more severe than two years ago.
Transportation officials hope to make further adjustments from this latest ice storm after their respective agencies file and review response reports in the coming days.
But it is evident already where some of the problems occurred. Besides not having enough ice-breaking machinery on hand, a de-icing salt solution spread on roads before and during the freezing rainstorm was not as effective as officials had hoped. Hartzel said continuing rain and traffic can sometimes prematurely clear the liquid magnesium chloride used to melt ice from roadways.
The ice storm also halted much of the area's public transit through last weekend, with full service not resuming until Tuesday.
To better prepare for such conditions, the agency has ordered scrapers to install on some cars to see if ice can be effectively chipped from the overhead wires that feed electricity to the electric motors.
The agency is also considering shutting down the system completely and placing equipment in strategically chosen locations before a storm hits. Such a plan allows the system to be cleared, repaired and running sooner than if continued operations were attempted during the storm.
"Ice is absolutely the worst thing that can happen to a transit system," agency spokesman Morgan Lyons said.
The ice didn't do much good for Travis Avenue Baptist Church in Fort Worth, either. Last weekend the church's sprawling parking lot was a sheet of ice, forcing the church to cancel its Sunday services for the first time in two decades.
But unlike many in North Texas who found themselves stranded on roadways or stuck at home, Pastor Michael Dean does not blame transportation agencies. He sees this as the work of a higher power.
"I think it was just one of those things that sometimes God likes to shut us down to show us that we're not always in control," Dean said.
Copyright AP - Associated Press