What to Know
Airlines have continued canceling flights due to extreme winter weather in North Texas
Both DFW and Love Field advise travelers to check their flight status before heading to the airport
Both North Texas airports advise those traveling to the airport to give themselves plenty of time to navigate poor road conditions
Airlines have canceled more than 1,000 flights at Dallas-Fort Worth International Airport and Dallas' Love Field as winter weather caused a travel mess in North Texas that continued into Monday.
As of 3:15 p.m. Monday, FlightAware reported 926 flight cancellations into and out of DFW Airport along with 242 delays; and 136 cancellations into and out of Love Field along with 24 delays.
FlightAware also reports 486 DFW flights are already cancelled for Tuesday as the region tries to dig its way out of a record storm; another 25 were cancelled for Love Field.
Dallas-Fort Worth International Airport
DFW Airport tweeted that teams were working to keep the runways clear and safe, but asked passengers to give themselves extra time to get to the airport and to check with their airline on the status of their flights.
In-bound flights that are arriving are experiencing lengthy delays, the airport said in a tweet.
Dallas' Love Field
Love Field also advised passengers to check on their flights since many airlines were canceling flights due to extreme weather conditions; they also urged people to use caution getting to the airport.
The airport said it has been working around the clock since noon Saturday to accommodate travelers stuck in Dallas. Cots and single-use blankets and pillows are available upon request. The airport is setting up cots in the Love Landing area, as the terminal is expected to be left open throughout the winter storm event.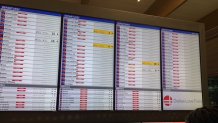 ERCOT and Oncor have called on all Texans to conserve electricity and Love Field says it is doing its part by lowering the temperatures in the terminal and surrounding buildings for the next few days.