Texas Governor Greg Abbott announced a reopening plan for bars across the state.
In a document released on Wednesday, county judges in each Texas county will be able to opt in with plans to open bars starting October 14.
In the counties that decide to opt-in, bars will be allowed to operate at a 50% occupancy. Customers must remain seated while eating or drinking at the bar. There is no occupancy limit outdoors.
All employees and customers must wear a face covering when it is not feasible to maintain six-feet of social distancing, except when seated at the bar to eat or drink.
Dallas County Judge Clay Jenkins responded to the move Wednesday on Twitter said "I will not file to open them at this time. We are in orange but our numbers are increasing (BadI) I will listen to everyone but will follow the science."
This statement from Jenkins was not what many Dallas County bar owners wanted to hear.
"So today I really didn't get excited about much because I was waiting for the other shoe to drop and it did," Double Wide bar owner Kim Finch said.
Finch owns two bars that have been closed for seven months because of coronavirus restrictions. She can't believe she must remain closed for now.
Local
The latest news from around North Texas.
"When everything else in the world gets to open back up and you don't that's pretty messed up," Finch said.
Finch has sacrificed a lot just to maintain so the doors can hopefully open again one day.
"15 years worth of savings my savings is gone," Finch said. "My retirement fund is gone. My life insurance policy is cashed out."
That's just financial side of things. Finch chokes up talking about what else she has lost.
"The main thing is I've lost my community," Finch said. "I lost being with that close knit family every day."
Finch looks forward to reopening eventually. She knows it won't be easy or cheap to get the taps flowing again.
"Thousands of dollars worth of beer spoiled," Finch said. "That's money out of pocket so you have to buy a lot of inventory."
She's also having to find and train staff to meet all covid-19 safety protocols to keep everyone safe.
"We have to constantly think about cleaning and cleaning and wiping and wiping and making sure you're safe and we're safe," Finch said.
Opening safely is what she wants to do because she can't risk losing anything else.
"If I've come this far I can't give up," Finch said. "I just, I feel like it's real close. Real close."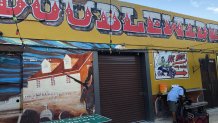 Tarrant County PIO Bill Hanna told NBC 5 Judge Glen Whitley does not plan to make an immediate decision on reopening bars. He'll consult with other leaders and decide in coming days.
Bars in Texas have been closed since June 26 due to the coronavirus pandemic.
Abbott tweeted on Monday, saying Texans have kept "COVID-19 under control" and that he would announce "more openings soon." He added a gif of two beer glasses with the word "cheers" to the tweet.
Hundreds of Texas bars reclassified as restaurants in the interim after a ruling from the Texas Alcoholic Beverage Commission that allowed bars to reopen as a restaurant even if their total revenue from alcoholic beverages topped 51%.
The change allowed bars to count sales of prepackaged food, even chips and salsa – and eliminated the requirement for having an on-site kitchen.