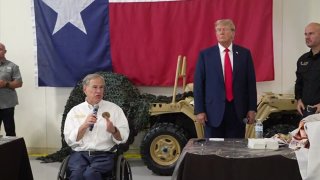 Former U.S. President Donald Trump was in Texas on Sunday to announce his new hardline immigration platform if elected back to the White House in 2024.
Trump appeared alongside Texas governor Greg Abbott, who endorsed Trump's presidential bid and is soon expected to sign state immigration law Senate Bill 4.
The new law would make it a state crime to cross into Texas from Mexico illegally, allowing Texas peace officers to arrest people they suspected of entering the country without proper documentation.
Immigrant advocates and Democrats have called the bill racist legislation and are signaling a challenge to SB4 in the courts.
In a visit to Edinburg in the Rio Grande Valley on November 19, former president Trump was endorsed by Texas's governor for 2024.
"I'm here today to officially proclaim my endorsement for Donald J. Trump to be president of the United States again," Greg Abbott told the crowd ahead of the former president's remarks.
Governor Abbott called for a return to Trump administration immigration policies, saying Title 42 and the Remain in Mexico program reduced migrant crossings into Texas.
Local
The latest news from around North Texas.
"Altogether under Joe Biden, there have been more than 8 million people come across the border illegally," Abbott said. "We have to deal with that here in Texas."
The state's latest immigration policy: Senate Bill 4.
The governor is soon expected to sign the bill, which would make illegally crossing into Texas from Mexico a misdemeanor offense.
The bill would allow local and state law enforcement to arrest people they suspect had entered the country illegally.
"To me, it's straight-up racist, it's a racist law," said Ramiro Luna, executive director of Somos Tejas.
Immigrant advocates are decrying the bill, calling it an attack on the Hispanic community in Texas.
The organization Somos Tejas told NBC 5 they've made plans to hold a series of community meetings aimed at helping the public understand their rights if detained under SB4.
"It legalizes racial profiling, and our community is the one that's being attacked," Luna said. "Communities of color are the ones that are being jeopardized the most, and it's something that's really going to harm the state as a whole."
But if arrested under SB4, what are your rights?
An immigration attorney told NBC5 that based on the US Supreme Court's ruling in the 2012 Arizona v. United States case, only the federal government can enforce immigration law, not police, sheriff's deputies, or state troopers.
"It is important to understand that constitutionally, they do not have that power," immigration attorney Haim Vasquez said. "A person does not have to provide status or any immigration documents to a law enforcement officer unless it's requested through a program by ICE, or ICE directly."
Immigrant advocates said multiple organizations have planned to file legal challenges to SB4 in the courts.
But while the policy stands, experts told NBC5 there are steps Texans can take to protect themselves.
"The very important part is, you need to find representation, you need to have documents that identify you by name, and also do not accept any information given unless you speak to a lawyer," Vasquez said.