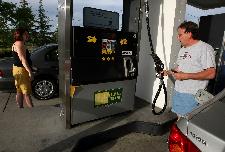 Gas prices are creeping back up again as we get closer to the summer months, but they are nowhere near where they were a year ago.
AAA reports the national average for a gallon of regular unleaded is $1.94. Last month the average price was $1.91.
North Texas drivers are paying close to the state average of $1.81 while drivers in Dallas are paying $1.82.
Local
The latest news from around North Texas.
In Fort Worth and Arlington the average price is $1.79.
This time last year the average price of a gallon of unleaded was $3.10.