Today is a Weather Alert Day at NBC 5. A cold front will push south through North Texas triggering thunderstorms with the potential to turn severe.
In order for a storm to be considered severe it must have hail over one inch in diameter, winds greater than 58 mph and/or be capable of producing a tornado.
The Storm Prediction Center's convective outlook for today (also called a severe weather risk map) has a slight and enhanced risk of severe storms in North Texas.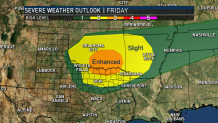 April and May are the most active months for severe weather in North Texas. Today's severe weather is right on schedule. This is a look at severe weather climatology over the past 30 years.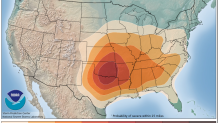 This is where severe is most likely to happen on this day based on past weather events. The bull's-eye for severe storms almost lines up perfectly with the convective outlook for today with the highest risk centered over Oklahoma and North Texas.
Local
The latest news from around North Texas.
When storms move through this evening there is a small threat for a tornado mainly north of DFW. As the storms form into one line and push southeast, the tornado threat diminishes.
Looking at past tornado climatology, the bull's-eye is centered over Oklahoma and North Texas.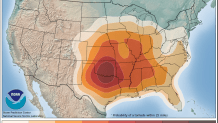 Here is the chance for tornadoes today. Again, it almost lines up perfectly.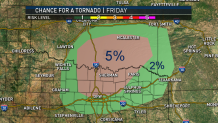 Continue to stay weather aware. The worst time of year for severe weather will be over in about a month and a half.