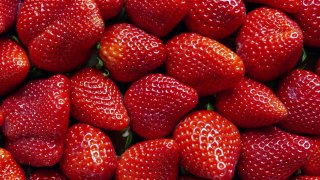 The Food and Drug Administration announced Saturday that brand Kampo or HEB fresh organic strawberries should be thrown out if purchased from March 5 to April 25, 2022.
The FDA said in a statement that the strawberries purchased during that time period could be linked to a hepatitis outbreak. So far, 17 people have gotten sick in the U.S. and 12 have been hospitalized, including 15 cases in California and one each in Minnesota and North Dakota.
Currently, the affected products are past shelf life, but the FDA advised that any of the Kampo or HEB fresh organic strawberries frozen for later consumption should not be eaten.
The products were sold at the following locations:
Aldi
HEB
Kroger
Safeway
Sprouts Farmers Market
Trader Joe's
Walmart
Weis Markets
WinCo Foods
Any consumers who may have eaten the berries in the past two weeks, if they are not vaccinated against hepatitis A, should immediately consult a doctor, the FDA said. They may need post exposure prophylaxis (PEP), which can prevent infection of hepatitis A.
The FDA lists symptoms of hepatitis A as including fatigue, nausea, vomiting, abdominal pain, jaundice, dark urine and pale stool. Illness would generally set in between two weeks and seven weeks after eating the contaminated food.