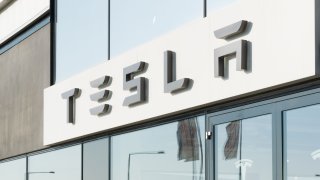 Tesla chief executive Elon Musk announced Saturday that the car manufacturer's headquarters will move to Texas or Nevada "immediately."
Musk's announcement came after statewide restrictions in California forced Tesla factories to stay closed amid the COVID-19 pandemic.
Dallas officials responded to Musk's tweets over the weekend, saying that Dallas would be the perfect spot for the car manufacturer's headquarters.
Dallas County Judge Clay Jenkins made a play for Tesla, saying that Dallas is the fastest growing metropolitan area in the country and is ranked first in job creation. Jenkins also said he knew the perfect spot for the Tesla headquarters in South Dallas.
Dallas Mayor Eric Johnson also replied to Musk's tweet, saying that Dallas will be the first major city in Texas to rebound from the COVID-19 outbreak. Like Jenkins, Johnson also suggested that Musk move the Tesla headquarters to South Dallas.