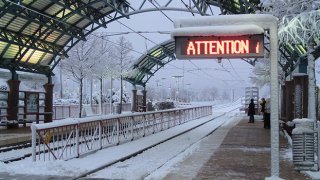 Public transit services across North Texas are making major changes to their schedules at least through Monday in response to the cold and snow in the area.
DART
DART is planning to suspend its light rail services from Sunday night through Wednesday because of severe weather, the transit agency said Saturday.
All Dallas Area Rapid Transit rail operations will be suspended beginning at 9 p.m. Sunday and going through 11:59 p.m. Wednesday.
Bus routes will operate on a Saturday schedule with limited service added on local routes 63 and 362.
The Dallas Streetcar will not be operating but a shuttle bus will make all stops and run from EBJ Union Station and the Bishop Arts District.
Fourteen additional shuttle buses will also be running. More information is available on the DART website dart.org/winterweather.
Winter Weather Recovery
After several days of sub-freezing temperatures, some melting is expected Friday and Saturday.
The following DART transit centers will be open 5 to 7 p.m. Monday to help riders:
Addison Transit Center (Addison)
Bernal/Singleton Transfer Location (Dallas)
Central Business District (CBD) West Transfer Center (Dallas)
Cockrell Hill Transfer Location (Cockrell Hill)
Downtown Garland Station (Garland)
Downtown Irving/Heritage Crossing Station (Irving)
Hampton Station (Dallas)
Illinois Station (Dallas)
J.B. Jackson, Jr. Transit Center (Dallas)
Ledbetter Station (Dallas)
Parker Road Station (Plano)
Red Bird Transit Center (Dallas)
South Garland Transit Center (Garland)
The DART Paratransit will operate on a Holiday schedule Monday through Wednesday, closing subscription trips, with the exception of dialysis service. Customers that need to book trips Monday through Wednesday can call 214-515-7272 or visit www.dart.org/ridepara.
GoLink service will be available in the Inland Port zone from 5 to 8 a.m. There will not be GoLink service in the remaining zones.
The Saturday update is an escalation to Operating Scenario 2 of DART's Severe Winter Weather Operating plans. More information about those plans can be found at dart.org/winterweather.
Denton County Transportation Authority
The DCTA A-train will not be in service until further notice. As a result, the A-train schedule information is not available on the agency's Transit Tracker system.
DART will operate a shuttle to service the Trinity Mills Station since it has canceled service through Wednesday.
For more information on the DCTA, click here.
Trinity Metro
In Fort Worth, TEXRail will operate hourly Monday, while bus service will run on a modified schedule starting at 10 a.m.
The Trinity Railway Express services will be suspended starting at 10 p.m. on Monday, Feb. 15, until the start of service on Thursday.
TRE will be posting updates on their website here.
For more details, click here.