The baby gorilla that was born last week at the Dallas Zoo made its public debut on Thursday.
Zookeepers said a 22-year-old critically endangered Western Lowland Gorilla named Hope, delivered the baby last Monday.
The newborn and its mother and father are allowed to roam in the Gorilla habitat, visible to the pubic for the first time.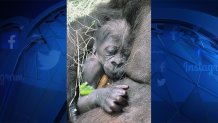 The baby and mother have been behind-the-scenes since the birth, bonding as a family.
The baby's father, is a Western Lowland Silverback named Subira. Zookeepers said he was the first of the gorilla family to meet the newborn after delivery and gently put his lips on the baby's head.
As the family continues to bond, zookeepers are giving Hope and her newborn space and time to bond, therefore the sex of the baby is unknown at this time.
"Welcoming a critically endangered gorilla into our family is one of the most significant animal announcements we can make, and we've waited patiently for 20 years for this moment," said Gregg Hudson, Dallas Zoo's President and CEO. "We've dedicated years of conservation field work to saving gorillas in the wild and now we're proudly increasing their numbers in human care. We're truly beaming with pride."
Hope arrived at the Dallas Zoo in February 2017 on an Association of Zoos and Aquariums' species survival plan in hopes of increasing the population of gorillas in North America.

The birth marks the fifth baby gorilla the zoo has cared for in nearly 50 years.
[NATL] Adorable Zoo Babies: White Lion Cubs Nala and Simba Born in France