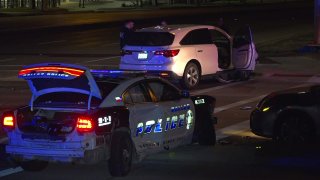 A Dallas squad car was struck by another vehicle while the officer was responding to an emergency early Saturday in Lake Highlands, police say.
The incident happened at about 1:30 a.m. at the intersection of Walnut Hill Lane and Skillman Street, Dallas police said.
Police said the lights and sirens of the squad car were turned on. The squad car then struck a third vehicle.
While there was one person in each vehicle, there were no reported injuries, police said.
The cause of the crash was not immediately determined.