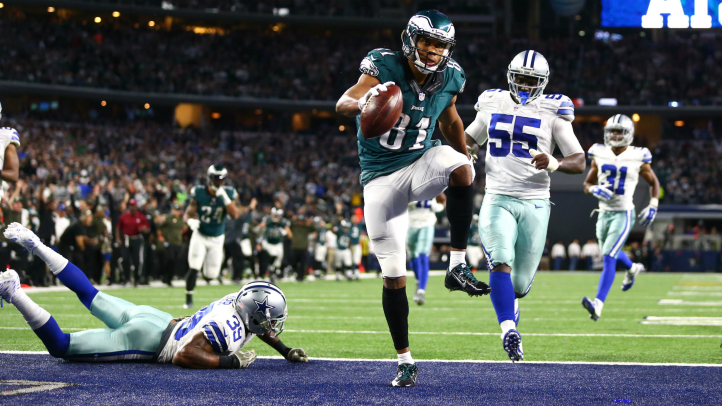 The Dallas Cowboys lost their sixth straight on Sunday night, it just took longer than normal for them to do it, falling to the Eagles 33-27 in overtime.

The Cowboys offense came out looking strong, marching 93 yards in just under six minutes on their opening drive. Matt Cassel capped it off with a five-yard touchdown pass to Cole Beasley to give the Cowboys a 7-0 lead.

The Eagles wouldn't answer until the second quarter, but when they got going, Sam Bradford and co. went 80 yards in just over four minutes, scoring on a one-yard run from DeMarco Murray.

The Eagles took the lead just two and a half minutes into the third quarter, when Ryan Mathews took a six-yard run into the end zone to cap a seven-play, 95-yard drive. The Cowboys answered with a 10-play, 80-yard drive, capped by a 17-yard touchdown pass from Cassel to Beasley, the pair's second TD connection of the day, to make it 14-14.

The fourth quarter got off to an ugly start for Dallas as Jordan Hicks picked Cassel off and went 35 yards for the touchdown. It's the second pick-six Cassel has thrown in his three starts.
The Cowboys once again answered, as Cassel managed to find Dez Bryant in the end zone on a hail mary just two minutes later. Bryant's first touchdown of the season tied the game at 24-24. Caleb Sturgis and Dan Bailey traded field goals down the stretch to make it 27-27 going into overtime.

For the second time in as many overtime games though, the Cowboys wouldn't get a possession. On the Eagles' ninth play of the extra period, Bradford hit Jordan Matthews for a 41-yard touchdown to give the Eagles the 33-27 victory.

In his return to Dallas, Murray had 156 total yards and the touchdown.

Now at 2-6 and in the NFC East cellar, the Cowboys will face the Buccaneers in Tampa Bay next Sunday.

Copyright FREEL - NBC Local Media