What to Know
Firefighters were investigating a natural gas leak when the explosion took place. Residents said a leak was noticed Tuesday night.
Four firefighters were hospitalized; three firefighters are in critical condition and one has been discharged.
The four residents are in stable condition and three are expected to be sent home Wednesday.
Eight people, including four firefighters, were injured Wednesday morning when a Southeast Dallas apartment building exploded and partially collapsed.
Jason Evans with Dallas Fire-Rescue told NBC 5 that firefighters were called to the Highland Hills apartments at about 10:21 a.m. after residents complained of smelling natural gas.
Firefighters arrived and confirmed the smell of natural gas at a building near the entrance. While conducting their investigation, an explosion occurred leading to the partial collapse of one building and sending debris flying 20-30 yards away.
"There were four firefighters within proximity of the explosion when it occurred, all four of them were injured and taken to the hospital," Evans said, adding that there were also four civilians who were hurt in the blast.
The eight people injured were taken to local hospitals for evaluation and treatment of a variety of injuries. Three of the firefighters remain in critical condition while a fourth has been discharged after being treated for a minor foot injury.
Fire Chief Dominique Artis said Wednesday afternoon that all four of the firefighters were from the same station and that the three that remain hospitalized are receiving intensive care.
Further details about the conditions of the injured firefighters are not yet known. Though Evans said, "When you are dealing with an explosion that can do that much damage to a two-story apartment building, you can only imagine what it can do to a human body."
Dallas Apartment Explosion
The residents injured in the explosion are reportedly in stable condition and three of them are expected to be sent home sometime Wednesday.
Tammie Cathcart told NBC 5 she witnessed the explosion and was warned by firefighters that they were investigating a gas leak in the area moments before the blast.
"As he got to the window, he said, 'Nobody go in because I smell gas.' As soon as he tried to lift up the window it just blew," Cathcart said. "Bodies was flying everywhere."
Dallas Apartment Explosion
Eric George lives in one of the residences destroyed by the blast and said he was home and resting when the walls blew apart and the windows shattered.
"I was laying down and the apartment blew up. Walls and everything just came apart. Windows shattered. One big boom," George said. "I was laying down, thank god I was laying down."
The explosion caused a two-story building to partially collapse on one end. Windows on adjacent buildings have been blown out and bricks from the facade were knocked from the walls. Debris from the building that exploded was seen spread across a carport and the roofs of nearby buildings.
Dallas Apartment Explosion
The explosion caused substantial damage to the immediate area and it's not immediately clear when residents of the affected buildings will be allowed to return to their homes or if it's structurally sound enough to allow anyone inside.
While the explosion appears to have damaged at least two other buildings, firefighters were able to put out the fire before it consumed the building or spread to adjacent buildings.
Dallas Fire-Rescue brought their Urban Search and Rescue Team to the area Wednesday morning to search the debris but no other injured people were located and everyone who lives in the building was ultimately accounted for.
The apartment community is located on the 5700 block of Highland Hills Drive near the intersection of Simpson Stuart and Bonnie View roads and not far from Paul Quinn College. Traffic along Highland Hills Drive was blocked off while the scene is investigated.
Power and gas were cut off to the neighborhood so that the scene could be safely investigated. Oncor crews were seen at the complex late Wednesday morning; Atmos Energy released a statement later in the afternoon saying they had been called to the scene and had performed safety checks of their system and verified that it was operating as expected. Atmos added that they found no indication that their system was involved in the explosion.
Dallas Fire-Rescue said the explosion will be a joint investigation involving DFR and multiple local, state, and federal agencies, to determine exactly what led to the blast.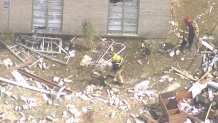 Evans added that it is extremely important people call 911 if they smell natural gas, saying "we have the equipment to investigate and determine where it is coming from."
The Red Cross was called in to help assist the residents affected by the blast. By Wednesday afternoon several residents had already been told they won't be allowed to return home as the entire complex has no power or gas service.
In all, more than 250 people were put up on hotels Wednesday night, unable to return home.
"Our food is gone. Our clothes are gone. These are the only clothes we have left," said Rahim Budwhani. "I was heartbroken because that's everything we could create in our life, and we had everything. We were almost up there, to be on the next level. Now we're on ground zero."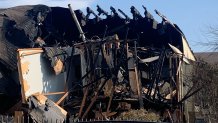 Mountain Creek Apts LP, the owner of the Highland Hills Apartments in Dallas, said in a statement late Wednesday afternoon that they were working with displaced residents on relocation options and that their "thoughts and prayers go out to all those affected by this situation." They added they were awaiting the fire department's report on the cause of the blast.
NBC 5's Ken Kalthoff, Maria Guerrero, Candace Sweat and Allie Spillyards contributed to this report.