Police arrested a 17-year-old male Tuesday in connection with a drive-by shooting in Irving that left an 18-year-old man dead and two others wounded early Sunday.
Jeremiah Robinson faces a murder charge in the shooting of Ledajrick (L.D.) Rajae Cox.
Investigators said Robinson and two friends got in a verbal altercation with Cox and two other teens at an Irving 7-Eleven.
Police Arrest Man, 17, in Fatal Shooting of Carter HS Grad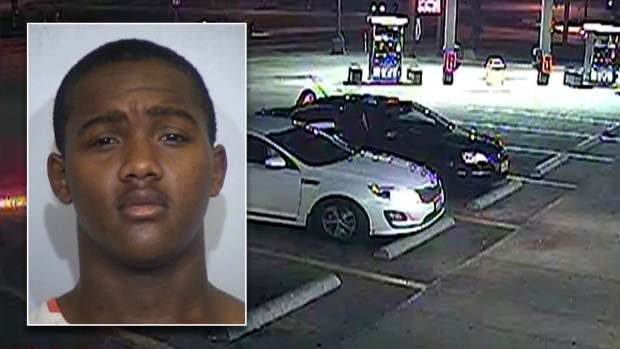 Both groups got in their cars and left.
That's when police say the car Robinson was in pulled alongside the other car, and Robinson opened fire.
Police said it wasn't clear what led to the shooting after what seemed like a minor squabble at the convenience store.
"Judging from what we've seen in the surveillance video, there's nothing to indicate it would rise to the level to cause someone to get so angry they would do something like this," said Irving police officer James McLellan. "There's just no explanation for it."
Cox was transported to Parkland Memorial Hospital, where he later died from his injuries. He had graduated from David W. Carter High School just five hours before the shooting.
In high school, Cox ran track and played football.
"It's just tragic," said Cox's father Reginald Henry. "One minute you're hugging your child saying congratulations, and the next minute you're at a funeral home picking out a casket. It's not a good feeling at all."
Henry said his son planned to attend junior college and talked of one day becoming an engineer.
The other two victims have been released from the hospital, police said.
Police said media coverage of the shooting resulted in detectives receiving several tips that led to Robinson and two other people in the vehicle.
The motive for the shooting is still unclear.
Robinson remains in the Irving Jail. His bond has not yet been set.
His mother, Latasha Stampley, said she does not believe her son committed the crime, does not own a gun and may be afraid to "snitch" on the real gunman.
"I know he didn't do it," she said.
The victim's father said he wants justice but can't get what he really wants.
"You can't give me back what you took from me," Henry said. "So how are you going to pay me back? What are you going to give me back to equal what I lost? We don't know what L.D. would have become or not become. But we'll never know that because his life ended."