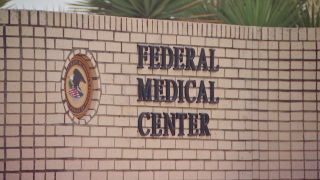 Federal Medical Center Fort Worth inmate Robert Hoffman, 75, was pronounced dead Wednesday after testing positive for COVID-19, the Bureau of Prisons says.
Hoffman first reported gastrointestinal issues on May 1. He subsequently tested positive for COVID-19, and was placed in isolation. On June 8, he was seen by FMC Fort Worth Health Services staff for increased fatigue, shortness of breath, and other symptoms and was transported to a local hospital for further treatment and evaluation.
Hoffman had long-term, pre-existing medical conditions and had been in custody at FMC Fort Worth since February 2017.
He is just one more than 600 of the 1,500 inmates at FMC Fort Worth have tested positive for the virus. To date 583 inmates have recovered, 11 have died and 29 cases are still active.
Five staff members at FMC also tested positive for the virus. There have been no reported deaths of staffers.
The Bureau of Prisons will continue to provide daily updates and information on actions related to COVID-19 on their website.