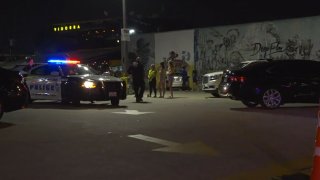 One man was fatally stabbed in a parking lot in Deep Ellum and a second person was wounded in a separate stabbing in the entertainment district hours later, Dallas police say.
Officers responded at about 9:12 p.m. Friday to the lot in the 2600 block of Main Street, where one man had been stabbed.
He was taken to a local hospital, where he died, police said. The victim's identity has not been released.
Police did not provide any information about a suspect, but said the person fled before officers arrived and remained at-large Saturday morning.
At about 2:12 a.m. Saturday, officers responded to a separate stabbing call in the 200 block of Crowdus Street.
Police said a disturbance had occurred at the location and a male had been stabbed multiple times.
The victim was taken to a hospital, and one person was taken into custody, police said.