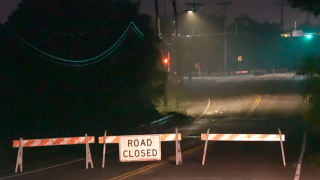 One person is dead after Arlington officials pulled multiple individuals from high water on Thursday night.
According Arlington officials, first responders were called to the intersection of Webb Road and Ballweg Road in Arlington regarding an SUV that went into a ditch containing high water.
Officials said the Arlington Fire Department rescue team responded to the scene and pulled at least three people from high water.
Officers also responded to the intersection of Webb Ferrell Road and Hanrahan Avenue in reference to an individual trapped inside a submerged vehicle, officials said.
Officials told the Associated Press that fire and rescue officers said a man called his family to say his car was filling with water at a flooded crossing over a southeast Arlington creek. The car was then swept from the bridge.
Crews arrived and pulled the man from the car, but he later died at a hospital. The Tarrant County Medical Examiner's Office identified the man as 22-year-old Saniel Antonio Singh, officials said.