White, Perry Rev Up Volunteers in Texas Gov. Race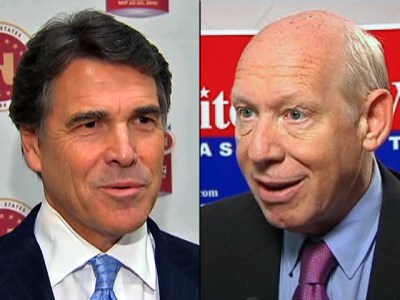 An uncharacteristically feisty Bill White made a last-minute push to turn out supporters for his Democratic gubernatorial campaign Monday, saying Gov. Rick Perry had been in office so long, he'd "lost touch with reality." Perry made a last blitz through the state's major cities, saying he and fellow Republicans would begin Tuesday with the "wind at our back."
White, known for his low-key demeanor, was more animated than usual in the final campaign stops Monday.
"Are y'all ready for a new governor now?" White said when greeting cheering Dallas supporters.
White told campaign workers at his Dallas headquarters Monday that the election will be tight and that the volunteers will be part of history -- if supporters turn out.
"I've got to tell you, it's going to be close," he said. "We have not that many hours to convince people to go out and vote."
Perry, holding a double-digit lead in the latest polls, also encouraged supporters who hadn't yet voted to hit the polling places on Tuesday. But he confidently predicted he and his fellow Republican candidates will prevail.
"There is a very strong Republican conservative, small government, fiscal conservative wave cresting across this country," Perry told reporters after addressing a small gathering of Republicans at Maggiano's Italian restaurant in Dallas. "Texas is no different."
Perry's comments looking beyond Texas to the national political mood, as well as his upcoming book tour, clearly irritated White.
He scolded Perry for writing a book, which is set to come out after the election, and accused Perry of using the governor's office to sell books. He told volunteers that they should boot Perry out of office so he'll have plenty of time to publicize his book, which champions states' rights and is called "FED UP."
"You can go on your national book tour and you'll have no conflict with being governor at the same time," White said, to laughs from the crowd.
He said Perry is wrong when he says Texas' economy is in good shape. He said there are more Texans unemployed than ever, and that the state's jobless rate is higher than some neighboring states.
"The fact is, that he's lost touch with reality," White said.
Molly Hanchey, North Texas director for the Bill White campaign, predicted a victory for White in Dallas County and said it will be a "tipping point" for him statewide.
She said the Dallas headquarters was making a hard push for "persuadable Republicans" who had voted for U.S. Sen. Kay Bailey Hutchison in her primary contest against Perry.
"We've had a long time to focus on speaking to that Republican individual who, quite frankly, is very unnerved by the current governor," Hanchey said.