Perry Missing from First Governor Debate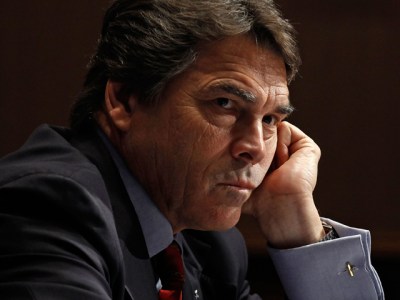 Gov. Rick Perry was absent from the first gubernatorial debate of the general election campaign Sunday night, and Democrat Bill White used the forum to criticize Perry following reports that companies linked to major donors received large state grants.
White, the former Houston mayor, joined Libertarian Party nominee Kathie Glass and Green Party candidate Deb Shafto in fielding questions during an event that drew about 300 spectators in Houston, the Houston Chronicle reported. The debate was sponsored by the League of Women Voters.
The trio discussed education, with White and Glass questioning the emphasis on standardized testing, and all three calling for a greater emphasis on vocation and technical education. Glass endorsed securing the Texas-Mexico border with the Texas State Guard.
White also went after the Republican governor, saying state government should be "well-run as a public service for all people and not as a political machine." His comment referred to an article in the Dallas Morning News on Sunday that said more than $16 million from the Texas Emerging Technology Fund has gone to companies with ties to Perry's major campaign donors. Perry told the newspaper that the donors' support had nothing to do with the grants.
Perry declined to participate in the debate. He had said he wouldn't debate unless White releases more of his income tax returns.
During the debate, White referred to the technology fund grants and said state government must not only do right but be seen as doing right.
"I certainly don't think that we ought to have politicians using taxpayer funds to decide which individual businesses they're going to subsidize. Something is wrong with that picture," he said.
Glass, a civil trial lawyer, also endorsed cutting the state budget by 15 percent and abolishing franchise and property taxes. Regarding education, she questioned the need for school dropout programs. A 14-year-old, she said, "just possibly knows what's better for his life."
White and Glass both questioned the need for national public school standards and what they described as too much emphasis on testing.
"I've never met a person who makes their living taking multiple-choice tests," White said.
All three also called for a greater emphasis on vocational and technical education.
Shafto, a retired Houston school teacher, endorsed many of White's positions and urged that Texas be "the clean-energy leader of the whole world."
The three are scheduled to participate in an Oct. 19 debate sponsored by several of the state's major newspapers and public television station KLRU.