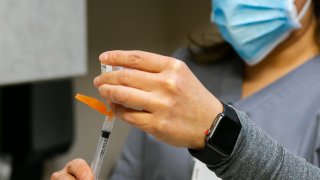 North Texas Area Community Health Centers (NTACHC) will offer 500 COVID-19 vaccines on April 17 and April 24.
The Pfizer vaccines will be first-come, first-served from 8 a.m. to noon for anyone 16 years and older who needs their first dose.
People who go to get a vaccine will have to bring a photo ID and insurance if they have it. The NTACHC Northside vaccine clinic is located at 2332 Beverly Hills Drive in Fort Worth.
COVID-19 Vaccines
Local
The latest news from around North Texas.
In Texas, the COVID-19 vaccines are currently available to anyone over the age of 12. The vaccines are still not approved for children younger than 12 however -- those trials are ongoing.
Once vaccinated, people who received either the Moderna or Pfizer vaccines are expected to get some level of protection within a couple of weeks after the first shot, but full protection may not happen until a couple of weeks after the second shot. For those who receive the Johnson & Johnson vaccine -- there is only one shot needed. Even when fully vaccinated, it's still possible to become infected by the virus since none of the vaccines offer 100% protection from infection. With that in mind, even if you've been vaccinated it's still a good idea to wear a mask and keep some separation between strangers or those whose vaccination status is unclear.