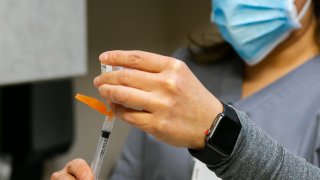 North Texas Area Community Health Centers (NTACHC) will offer 500 COVID-19 vaccines on April 17 and April 24.
The Pfizer vaccines will be first-come, first-served from 8 a.m. to noon for anyone 16 years and older who needs their first dose.
People who go to get a vaccine will have to bring a photo ID and insurance if they have it. The NTACHC Northside vaccine clinic is located at 2332 Beverly Hills Drive in Fort Worth.
COVID-19 Vaccines
In Texas, the COVID-19 vaccines are currently available to anyone over the age of 5. The vaccines are still not approved for children younger than 5 however -- those trials are ongoing.

Once vaccinated, people who received either the Moderna or Pfizer vaccines are expected to get some level of protection within a couple of weeks after the first shot, but full protection may not happen until a couple of weeks after the second shot. For those who receive the Johnson & Johnson vaccine -- there is only one shot needed.

As of Jan. 3, 2022, it is also recommended those who are age 12 and up and who have been fully vaccinated receive a booster as early as five months after their last dose, for a total of three shots. The vaccine made by Pfizer and its partner BioNTech is the only U.S. option for children of any age.

As for even younger children, kid-size doses for 5- to 11-year-olds rolled out in November and experts said healthy youngsters should be protected after their second dose for a while. But the FDA also said on Jan. 3, 2022, that if children that young have severely weakened immune systems, they will be allowed a third dose 28 days after their second. That's the same third-dose timing already recommended for immune-compromised teens and adults.

Pfizer and Moderna are studying their vaccines, in even smaller doses, for children younger than 5.

Even when fully vaccinated, it's still possible to become infected by the virus since none of the vaccines offer 100% protection from infection. With that in mind, even if you've been vaccinated it's still a good idea to wear a mask and keep some separation between strangers or those whose vaccination status is unclear.