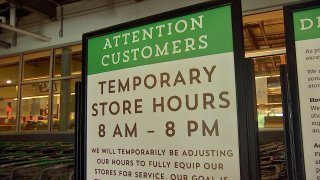 A person who works at the Central Market on Lovers Lane at Greenville Avenue in Dallas has tested positive for COVID-19, the company says.
The employee, who does not work in a "customer facing or food handling" position, has not been in the store since Wednesday and is in self-quarantine at home, according to Central Market's parent company H-E-B.
Both before and after the employee's positive test, the store was sanitized thoroughly multiple times, the company said.
"At H-E-B, we are here for all Texans, including our partners, our customers and our community. We're supporting the affected partner and their family and wish them a speedy recovery," H-E-B President Craig Boyan said. "As we continue to navigate the spread of the coronavirus, we will do so as one H-E-B family. As always, our top priority is keeping our Partners safe and healthy, so they can continue to serve our customers and communities during this time of need."
Coronavirus Pandemic
Full coverage of the COVID-19 outbreak and how it impacts you
H-E-B said each store has dedicated employees trained to ensure proper sanitation and social distancing measures are taken.
For more information about H-E-B's efforts to slow the spread of COVID-19, click here.