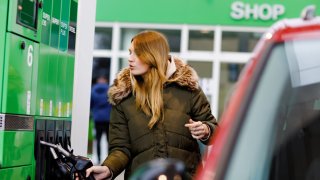 The coverage on this live blog has concluded.
President Joe Biden on Thursday announced his administration met his goal of delivering 100 million Covid-19 vaccine shots earlier than his first 100 days deadline. As more Americans seek vaccination, more states are allowing larger indoor gatherings and announcing reopening guidelines for businesses, like stadiums and health clubs. In contrast, Chancellor Angela Merkel is set to meet with leaders of Germany's 16 federal states on Monday to discuss extending a lockdown that began in mid-December as coronavirus infections in Europe have been on the rise in recent weeks.
Here are some of the biggest developments Friday:
The U.S. is recording at least 54,400 new Covid-19 cases and at least 1,200 virus-related deaths each day, based on a seven-day average calculated by CNBC using Johns Hopkins University data.
The following data was compiled by Johns Hopkins University:
Global cases: More than 122.08 million  
Global deaths: At least 2.69 million
U.S. cases: More than 29.71 million
U.S. deaths: At least 540,733
Mar-a-Lago is partially closed following a Covid outbreak
Mar-a-Lago, former President Donald Trump's Palm Beach club, is partially closed following a Covid outbreak, the Associated Press reports.
The club closed a section "for a short period of time," according to the AP, and some of the workers were quarantined. The AP reports the extent of the outbreak remains unclear, as does its potential impact on the former first family.
—Sara Salinas
Gasoline demand rebounds, nearly back to normal levels
U.S. gasoline demand is approaching normal levels as Americans once again hit the road amid the economic recovery and the Covid-19 vaccine rollout.
"It's been an impressive rebound in the last few weeks of demand and I continue to be surprised every day," noted Patrick De Haan, head of petroleum analysis at GasBuddy.
More consumers hitting the road combined with a draw in gasoline stocks has led to a jump in gas prices.
On Friday the national average for a gallon of gas stood at $2.886, up 69 cents or 31.4% from a year ago, according to AAA.
—Pippa Stevens
Royal Caribbean will resume cruises in the Caribbean in June — with a fully vaccinated crew
Royal Caribbean will resume cruises in the Caribbean in June — with a fully vaccinated crew, the company announced.
The summer itinerary marks a return to Caribbean sailing after a year-long pause, Reuters reported, and will be available to adults who are vaccinated and passengers under 18 who present a negative Covid test, according to the company.
"The vaccines are clearly a game changer for all of us, and with the number of vaccinations and their impact growing rapidly, we believe starting with cruises for vaccinated adult guests and crew is the right choice. As we move forward, we expect this requirement and other measures will inevitably evolve over time," CEO Michael Bayley said in a statement. 
—Sara Salinas
Parents with kids in virtual school are more stressed, CDC study shows
The coronavirus has forced millions of students and their parents to unexpectedly grapple with online learning in the past year. Now, a new study from the CDC shows that the remote learning has taken a physical and emotional toll on them.
The study, which polled 1,290 parents or legal guardians of school-age children up to age 12 between October and November, found 45.7% of respondents said their kids received virtual instruction, 30.9% in-person and 23.4% of kids were in a hybrid teaching program.
Overall, almost half — 46.6% — of all parents reported increased levels of stress, 16.5% said they were using more drugs or alcohol and 17.7% said they had trouble sleeping, among other deleterious effects. But the effects were worse among those with kids in full-time or part-time virtual learning programs, researchers found.
Virtual learning was harder on students as well. More than half, 62.9%, of parents with children learning from home said their kids were getting less exercise, 58% said they were spending less time outside, 86.2% said they were spending less time hanging out in person with friends and 24.9% said their kids' mental or emotional health had worsened.
—Noah Higgins-Dunn
Idaho legislature shuts down until April 6 due to virus outbreak
Idaho's state legislature voted Friday to shut down operations until April 6 following a Covid-19 outbreak, The Associated Press reports.
At least six of the 70 state House members have tested positive for the virus in the past week, according to the report. There are also fears that a highly contagious virus variant may be spreading in the Statehouse, the AP reported.
"The House has had several positive tests, so it is probably prudent that the House take a step back for a couple weeks until things calm down and it's not hot around here for COVID," House Majority Leader Mike Moyle said before the votes, according to the report.
More than 176,000 coronavirus cases have been confirmed in Idaho along with 1,938 virus-related deaths, according to the state's Covid website.
—Fred Imbert
$1,400 stimulus checks could get garnished for unpaid debts
Millions of people may find new $1,400 stimulus checks in their bank accounts this week.
But if you have past due private debts, such as medical bills or credit cards, that are subject to court orders, those government payments could be garnished.
New efforts to change that policy were made this week, as Sen. Sherrod Brown, D-Ohio, and a group of fellow Democrats sought to advance a bill to make it so the funds could not be garnished.
Their effort was shot down by Sen. Pat Toomey, R-Pa.
However, other consumer and banking industry groups, as well as the Consumer Financial Protection Bureau, have also called for stronger protections to prevent consumers from losing the money due to debts.
The stimulus checks are a federal benefit and should be exempt from garnishment, said Christine Hines, legislative director at the National Association of Consumer Advocates.
"We still need Congress and Treasury to work together to protect the stimulus payments," Hines said. "I don't think it's too late."
— Lorie Konish
Boris Johnson gets AstraZeneca Covid vaccine
U.K. Prime Minister Boris Johnson received his first dose of the Covid-19 vaccine developed by AstraZeneca and the University of Oxford, his office said in a statement.
Johnson's vaccination came after several European countries resumed use of the AstraZeneca vaccine. A flurry of countries around the world briefly suspended the use of those shots amid reports of blood clots in some recipients.
Johnson said Thursday that the AstraZeneca-Oxford vaccine was safe, and urged others to get inoculated.
"The thing that isn't safe is catching Covid, which is why it is so important that we all get our jabs as soon as our turn comes," he said.
—Fred Imbert
Fauci says variant from U.K. likely accounts for up to 30% of U.S. Covid infections
The highly contagious variant first identified in the U.K. likely accounts for up to 30% of Covid-19 infections in the U.S., the White House's chief medical advisor, Dr. Anthony Fauci, said during a press briefing.
The variant, called B.1.1.7, has also been reported in at least 94 countries and detected in 50 jurisdictions in the U.S., Fauci said, adding that the numbers are likely growing.
New variants are especially concerning for public health officials as they could become more resistant to antibody treatments and vaccines. Fauci also cited a study published in the U.K. that found B.1.1.7 is associated with a 64% higher risk of dying from Covid-19 than earlier strains.
Public health officials and Americans can counter the variant by doing two things, Fauci said: "Get as many people vaccinated as quickly and as expeditiously as possible with a vaccine that we know works against this variant, and finally to implement the public health measures that we talked about all the time... masking, physical distancing and avoiding congregate settings, particularly indoors."
–Berkeley Lovelace Jr.

The IRS is planning a fix for taxpayers who had unemployment income in 2020 and already filed
The IRS is planning to implement a fix for taxpayers who had unemployment income in 2020 and filed and paid taxes before new legislation made some of those benefits tax free.
"Do not file an amended return at this time," IRS Commissioner Charles Rettig said during a Thursday hearing with the House Ways and Means Committee.
"We believe that we will be able to handle this on our own," he said. "We believe that we will be able to automatically issue refunds associated with the $10,200."
The American Rescue Plan, passed in the middle of tax season, made the first $10,200 of unemployment income tax-free for people with adjusted gross income of less than $150,000 in 2020. (The break is $20,400 for two workers in a married couple filing taxes jointly.)
—Carmen Reinicke
Banks slide after Fed allows rule to expire that had eased capital requirements
Bank stocks took a hit Friday after the Federal Reserve decided not to extend a pandemic rule that allowed big Wall Street institutions to hold a smaller capital buffer.
The central bank said it would allow an exemption to the so-called supplemental leverage ratio to expire March 31 as planned when it was instituted on April 1, 2020.
In response to the severe market tumult in the early days of the Covid-19 crisis, the Fed permitted banks to not count Treasurys and bank deposits when calculating leverage ratios. A rule implemented in the wake of the 2008 financial crisis required banks to have a certain level of reserves to cover the risky holdings on their balance sheets.
Banks now might be tempted to sell some of their Treasurys at a time when government bonds have seen sharply higher yields. The Fed move also might discourage risk-taking on Wall Street, which lobbied heavily for an extension.
JPMorgan Chase was off nearly 3% in morning trading, while Bank of America, Citigroup and Goldman Sachs all fell more than 1%.
–Jeff Cox
Vermont opens vaccine eligibility to all adults beginning April 19
Vermont will open its Covid-19 vaccine eligibility to all adults age 16 and over beginning April 19, Gov. Phil Scott said in a tweet.
"Now, to be clear, these are the dates folks will be able to sign up. It doesn't mean everyone be fully vaccinated by then," Scott said.
The governor added that over 30% of adult residents in Vermont have already received at least one dose. All residents age 65 and older and people ages 16 and older with high-risk health issues are already eligible to receive a shot in the state.
—Noah Higgins-Dunn
Europe's third wave has begun
Paris, France, is locking down for a month and cases are on the rise in a number of other European countries, including Germany and Italy.
The cause of the new spike in Europe is believed to be the variant first discovered in the U.K. The strain is reported to be much more virulent than the original one.
Four charts show how infections are surging once again in the region, with German Health Minister Jens Spahn warning Friday that there are not enough vaccines in Europe to prevent this third wave.
—Matt Clinch
Latest Covid relief extends 15% boost to SNAP food benefits through September
The American Rescue Plan signed into law by President Joe Biden in March expands food benefits, giving aid to millions that are experiencing food insecurity due to the pandemic.
The bill extends the 15% monthly bump for the Supplemental Nutrition Assistance Program, or SNAP, through September. The temporary benefit was previously set to end in June.
Beyond SNAP, the bill allocates funding to help states continue to provide benefits and update food assistance programs to meet increased demand brought on by Covid. One program that states will get aid to continue is Pandemic-EBT, which replaces meals for children when schools are closed. It also ensures that children will still receive meals over the summer break.
Food insecurity has become a widespread issue amid the Covid crisis.
"Food hardship has increased significantly during Covid-19, especially for households headed by Black and Latinx adults," said Luis Guardia, president of the Food Research & Action Center. "SNAP benefits can help provide the nutrition those households need."
-- Carmen Reinicke and Annie Nova
Gottlieb says Covid masks still important for now
Dr. Scott Gottlieb told CNBC he thinks Americans need to keep wearing face masks to protect against coronavirus spread, but stressed that in the not-so-distant future, the guidance may change.
"We need to be careful this month. I don't think that this is the time to start lifting ... the simpler mitigations like wearing masks, things like that," the former Food and Drug Administration commissioner said on "Squawk Box."
Eventually, as more Americans are vaccinated and new coronavirus cases decline further, it will be sensible to forgo masks in public, Gottlieb contended.
"If infection levels get low this summer, which I believe they will, and we fully vaccinated 50% or 60% of the adult population, we're not going to be wearing masks on the beach on July 4th. We're not going to be wearing masks, probably, in indoor settings unless we want to," Gottlieb said.
—Kevin Stankiewicz
Disclosure: Scott Gottlieb is a CNBC contributor and is a member of the boards of Pfizer, genetic testing start-up Tempus, health-care tech company Aetion and biotech company Illumina. He also serves as co-chair of Norwegian Cruise Line Holdings' and Royal Caribbean's "Healthy Sail Panel."
CDC shortens social distancing guidelines for kids in school to 3 feet with masks
The Centers for Disease Control and Prevention revised its guidance on social distancing in schools, saying most students can now sit three feet apart instead of six feet apart so long as they are wearing masks.
The agency's recommendation is for all K-12 students, regardless of whether community transmission is low, moderate or substantial. In communities where transmission is high, the CDC recommends that middle school and high school students remain at least six feet apart if schools aren't able to keep students and teachers in assigned groups.
The updated guidance comes after a study published last week in the journal Clinical Infectious Diseases suggested public schools could safely reopen as long as kids were three feet apart and other mitigation measures, such as wearing masks, were enforced.
Some schools had complained that maintaining a six-foot rule was not feasible. The World Health Organization and the American Academy of Pediatrics have both approved three-foot social distancing.
—Berkeley Lovelace Jr.
Biden and Harris to meet with Asian American leaders, CDC experts in Atlanta
President Joe Biden and Vice President Kamala Harris are set to meet with Asian American leaders in Atlanta in the wake of the shooting rampage that left eight people dead, including six Asian women.
The violent attack in Georgia came amid a rise in violence and hate-crime incidents against Asians and Asian Americans during the Covid-19 pandemic.
The president and vice president are also scheduled to receive an update on the coronavirus crisis from experts at the Centers for Disease Control and Prevention.
—Hannah Miao
Boat dealers and manufacturers struggle with increased boat demand amid the pandemic
The boating industry is facing a massive uptick in sales and dealers are still struggling to keep up as people flock to outdoor activities amid the pandemic.
Steve Arnold, owner of two marinas and a boat club franchisee in Maine, said he's never seen anything like it during his 18 years working in the business. His boat sales across the board — used, new and rental boats — skyrocketed last year and he's still trying to keep up with wait times that increased from a few weeks to a few months.
People are turning to boats during the pandemic because of its unique way of bringing people together outdoors, while still allowing for social distancing.
"I think Covid changed society for the better in terms of looking towards your family and your relationships in your discretionary time," said Arnold, noting that this trend will stick in the boating industry for years to come.
Even, Brunswick Corp., owner of major brands like Sea Ray and Boston Whaler, had to increase production capacity in three of its facilities to keep up with the increased demand.
—Katie Tsai
Pandemic pushed 75 million more people into poverty in India, study shows
A Pew Research Center analysis showed about 75 million more people in India fell into poverty last year because of the pandemic-induced economic recession, reports CNBC's Yen Nee Lee.
That number for India accounts for nearly 60% of the global increase in poverty in 2020, the analysis showed. It defined the poor as people who live on $2 or less daily.
The increase in poverty in India "claws back several years of progress on this front," Rakesh Kochhar, senior researcher at Pew Research Center, wrote in a report.
—Melodie Warner 
Retro Fitness CEO on easing Covid restrictions
Andrew Alfano, CEO of Retro Fitness, joined CNBC's "Worldwide Exchange" to discuss the process of reopening gyms in New Jersey and across the country.
UK PM to receive Oxford-AstraZeneca vaccine, says others should do the same
U.K. Prime Minister Boris Johnson is due to receive the coronavirus vaccine developed by AstraZeneca and the University of Oxford.
Johnson, 56, has sought to reassure the public that the shot is both safe and effective following safety concerns around the world. Several countries in Europe had suspended the vaccine as a precautionary measure after reports of blood clots in some vaccinated people.
U.K. and EU regulators have said there was no evidence the Covid-19 vaccine had caused blood clots.
Johnson was himself treated in hospital for Covid-19 in April last year and spent days in an intensive care unit.
— Sam Meredith
Dr. Peter Hotez backs Fauci in his showdown with Sen. Paul over masks
Dr. Peter Hotez sided with one of the nation's top doctors following a showdown between Republican Sen. Rand Paul and Dr. Anthony Fauci on Capitol Hill over masks.
"Dr. Fauci is absolutely right, Senator Paul is absolutely wrong, and that's the way it's been for the last 14 months," Hotez said.
Paul claimed on Thursday that people who already have Covid antibodies aren't at risk and don't need to wear masks. The Kentucky Senator also accused Fauci of wearing two masks simply as "theater."
The White House chief medical advisor emphatically pushed back against Paul's comments saying, "I totally disagree with you."
—Emily DeCiccio
Read CNBC's previous live coverage here:
Covid updates: Big retailers open more stores; NY and Massachusetts reopening sports stadiums
Copyright CNBCs - CNBC