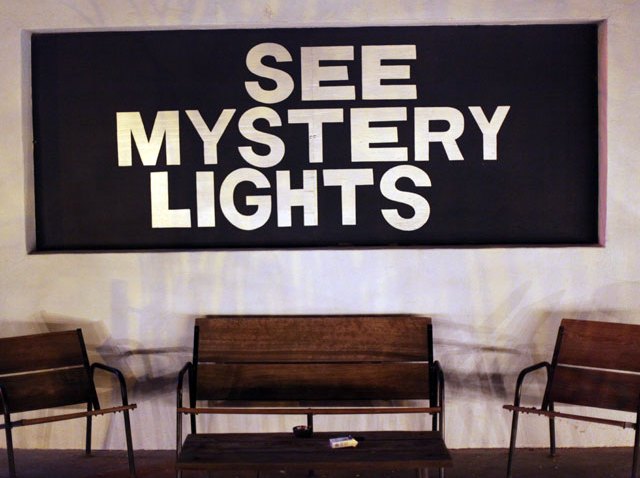 The following article is part five of a six-part series of a tour through the Big Bend Country region of west Texas. Coming up: Marathon. Previously we visited Monahans Sandhills State Park, Balmorhea State Park,Fort Davis and the McDonald Observatory.
Marfa, Texas. Once known only for being a very small town in the high desert that was home to strange lights, and as the shooting location for the Hollywood classic Giant, is now probably one of the smallest towns in the country that is a big-time tourist destination.
To the casual observer, Marfa may not have much to offer. But au contraire, mon frere, there is much to see in this tiny Texas town.
First, of course, are the Marfa lights. For the uninitiated, they are mysterious orbs that have appeared and disappeared in the nighttime desert sky for more than 100 years. First thought to be Apache campfires, settlers soon realized there was something paranormal about the lights, and their origin, and the mystery surrounding them was born.
Nine miles outside of the city, on the grounds of the old Marfa Army Air Field, is the official Marfa Lights Viewing Center, a place where you can get cozy under the stars and watch for the little balls of light to dance across the Mitchell Flat at the base of the Chinati Mountains. Naysayers will tell you the ghost lights are atmospheric reflections or car headlights, but after witnessing a couple of orbs play kiss-chase while moving up, down and then apart before fading away as quickly as they appeared, I can tell you only one thing ... that I have no idea what they are, but I'm not buying conventional theories explaining away their origin as something as lame as a car headlight (especially since they've been reported long before there were cars or electricity). Maybe seeing is believing, and isn't that half the fun? Check out the Marfa Lights Festival in September to get your fill.
When you've had enough of hunting ghost lights, Marfa has plenty to offer in the way of lodging and entertainment. There are plenty of traditional B&Bs where you can lay your head, but you may want to instead opt for the more quirky El Cosmico. It's essentially a campground where you don't have to bring your own tent, yurt, tee pee or renovated vintage trailer. They have them all on site and you simply pick which you'd like for the night. (I can personally recommend the 1953 Vagabond). The desert nights are cool and with clear skies, there is no better place to be. However, if you prefer something a little more traditional (with A/C), check out the Thunderbird Hotel. It looks like something out of the 50s, but is very modern inside with wifi, flat-screen TVs, a mini-bar and some locally-designed custom furnishings. The motorcourt offers bicycles for rent, to get a slower and more intimate tour of Marfa, and vintage typewriters, which travelers can use to crank out a nostalgic letter for friends back home.
So, aside from staring at the weird lights and stars and going to sleep, what else is there to do? Marfa has become a hotbed of an artist community and has more galleries than you could shake a stick at. This is due in no small part to the late New York artist Donald Judd who moved to the town in the 1970s. Judd is credited with starting the artist movement in Big Bend country and his work, and the work of other local artists, is preserved and curated by the Chinati Foundation.The artist community has evolved to such a degree that the small town now plays host to it's own annual film festival, the Marfa Film Festival, each May.
Where there are artists, chefs seem to follow and there is also no shortage of killer cuisine in Marfa. For lunch, I recommend Food Shark highly. How highly? I had two lunches in Marfa and ate there both days. The Mediterranean-by-way-of-West-Texas cuisine is incredible and I'll happily say the shark's Marfalafel is the best falafel I've had. For dinner, check out the upscale and formal Cochineal (reservations recommended) and don't skip dessert. The date pudding with rum caramel sauce and whipped cream really is worth a drive from Dallas. Seriously.
If that weren't enough, Marfa offers gliding tours, some hiking in the Chinati Mountains, a close proximity to Valentine and that odd Prada Marfa art installation and is only a short drive to Terlingua and Big Bend. A short drive east lies Alpine and Marathon, our final stop on the trip before heading for home.