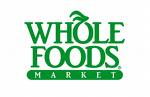 I frequently read articles about 'fanatic couponing' and the argument against couponing is usually based on the opinion that coupons exist only for pre-packaged or processed foods. While that may be the case in some instances, many coupons are for healthy items including yogurt, cheese, milk, whole grain breads, and even fruits & vegetables.
Whole Foods has store coupons available on their website. The best part is that you can combine these coupons with manufacturers coupons to get some terrific deals. I know I have been dying to try Almond Breeze almond milk for a while - with the $1/1 store coupon AND the $1/1 MQ coupon from the 2/28 SS - I am hoping to land some for FREE!
Check out Whole Foods store coupons here.
Let me know if you land some great deals with these!
Thanks to Rachel for a heads up on these coupons!