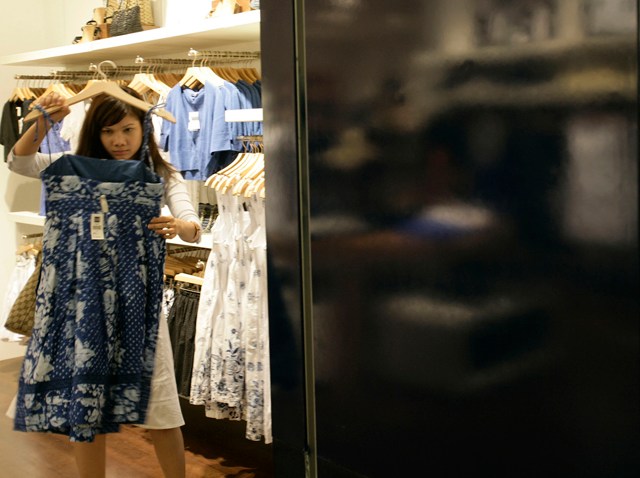 Presenting three weather-appropriate, ready-to-wear dresses suitable for a Waffle House dinner or a drink at the Wyndham Anatole:

Kimchi Blue Graphica Dress at Urban Outfitters: $24.99
This empire-waist, v-neck dress with breezy sleeves is machine washable and instantly flattering on curves of all kinds. The soft Asian floral print is large and the wrap-inspired trim is thick, so the wearer mustn't be shy. Call the North Park location at 214-361-2001; the Mockingbird Station store is at 214-821-4371.

Pollock Dress at Francesca's: $14.98
Never have cap sleeves looked so punk rock. We love this smock-frock for the color options it introduces -- leggings, jewelry, and cardigans could join in any muted primary color. Only small sizes are still in stock, but the silhouette allows for different shapes. Francesca's has great jewelry too; the shop carries lockets for romantic types and trendy pieces, too. Find the info for DFW's six Francesca's stores here.

Sheer Striped Dress at Forever 21: $29.80
Chock full of cheap dresses, Forever 21 offers gobs of pieces even more budget-savvy than this one. (We've fallen prey to a few thrifty finds that lasted less than a year.) But we like the Sheer Striped Dress because it looks expensive; high-fashion, even, with is stripey satin and pintucked bodice. The midnight navy color gives a vintage feel, and there's a sweetness in that high-necked Fundamentalist Latter-Day Saints look. Three multi-level locations in the area: Grapevine Mills Mall, 972-956-0667; Stonebriar Centre in Frisco, 972-668-0378; and The Shops at Willow Bend in Plano, 972-202-9961.

Lyndsay Knecht Milne is the copy editor with the desk closest to the treat ledge at the Denton Record-Chronicle. She shares solutions for struggling short-order cooks at Sugar Burns.
Copyright FREEL - NBC Local Media