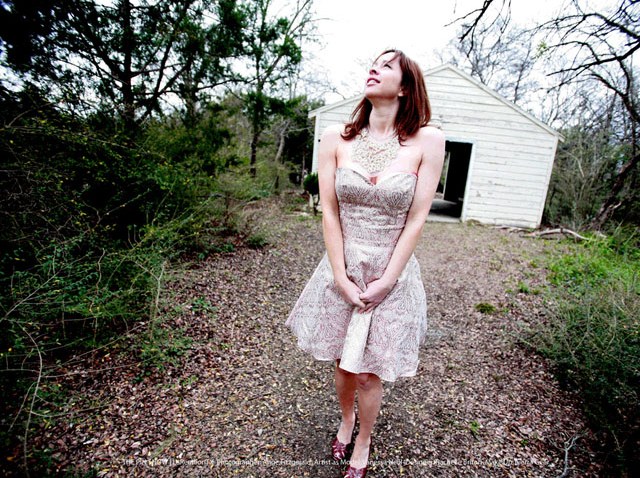 Employing a concept as visually pleasing as it is encouraging for advocates of art with social purpose, The Pin Show has teamed up with artists'-enclave-in-progress La Reunion of Oak Cliff to give seekers of indie fashion a sublime first look at some pieces appearing at the 2010 showcase.
The photos that emerged from a session at the 35-acre spread of urban forest feature artists who work with La Reunion's community-building programs as models, introducing clothes and jewelry by Pin Show designers on bodies that have slaved over color and shape like those who've dressed them.
We can't help but notice how at home these artists look in the space; it could be because they're helping to prepare it or because it would make an inspiring homestead for a painter or sculptor. And there's the significance in the meet-up: a portion of the proceeds from an on-site boutique will go toward La Reunion's goal of establishing an artist-in-residency program on the land you see in these pictures.
Set for Feb. 25 at Union Station, The Pin Show will feature regional favorites such as Austin's Meline alongside young local designers such as Lydia Apple, an apprentice to Pin Show co-founder Rachel Nichelson and her line, Madeline Wood.
According to Nichelson's partner, Julie McCollough Kim, the whole production has expanded. One especially notable change for patrons: All 31 designers are now participating in the on-site boutique. And almost half of the lines you'll see this year on the runway are new to the event, McCollough said.
A showcase reserved only for jewelry and accessories will help throw focus on what's been a major player in independent fashion -- the trinkets and bags that sell so well on Etsy.com and at boutiques such as Kim's Make.
But just because the event is known for springboarding area designers, it doesn't mean participation is limited to Texans.
"We definitely started out as a regional platform for emerging designers. Now more than ever, we're trying to help them find middle ground in the U.S. It was always our mission to feed the local economy, but also to provide other artists with a chance to showcase here," Kim said. "It's a great starting point for them."
Find tickets for The Pin Show, Feb. 25 at Union Station from 8 to 10 p.m. here. General admission is $12.
Copyright FREEL - NBC Local Media