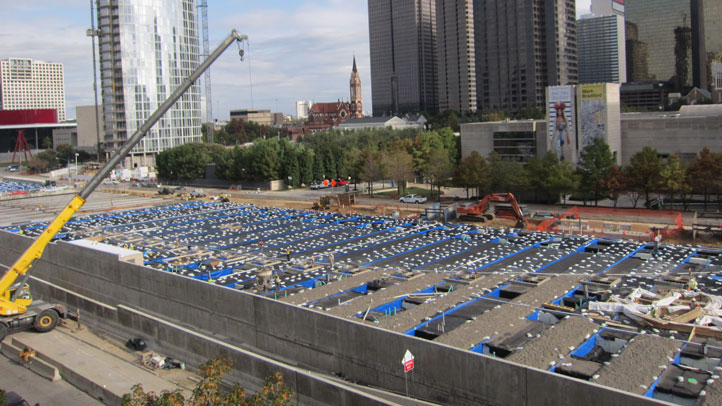 The Woodall Rodgers Deck Park (or just The Park, if you're fancy) has moved on to the next phase of construction -- the actual park.
Having completed placing the beams and creating the "deck" for the park over the freeway, it's now time for construction group McCarthy Building Companies to pile on the dirt.
Crews from the company started to put soil onto the deck this week, less than a year before it's scheduled opening.
"With less than a year until the Park opens, Dallasites will be eager to watch the McCarthy team add trees, landscaping and amenities to the deck structure," said Linda Owen, president and CEO of the Woodall Rodgers Park Foundation in a press release.
Among those amenities are a children's park, dog park, botanical gardens, water features, a performance stage, a Thomas Phifer-designer restaurant, and, of course, big areas of green space for frolicking.
"The Park is an exciting opportunity to connect Uptown, Downtown and the Dallas Arts District, providing a central gathering space for Dallas," said McCarthy Texas Division President Mike McWay. "McCarthy is proud to have a role in constructing The Park as Dallas continues to evolve, adapting to the way its residents and visitors are using urban spaces."