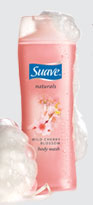 Received an email from the fine folks at Suave...with links to 2 new coupons!
50¢/1 Suave Body Wash (the new Wild Cherry Blossom scent sounds yummmm!!)
I was able to print 2 of each by pressing the "Back" button. Just noted that the Body Wash link is a little wishy-washy (no pun intended, hehe)..so keep checking back!
Enjoy!