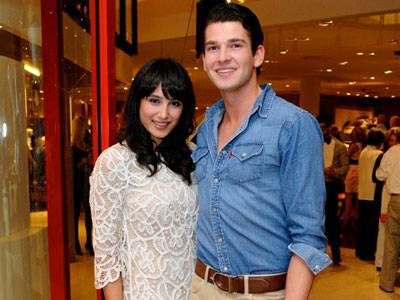 Meet Nadia Dabbakeh, Dallas style star. A local purveyor of all things fashionable and cool in her role as an associate editor for online magazine, PinkMemo, she exudes an international, eclectic aesthetic that's inimitable.
We caught up with Dabbakeh recently, and the SMU grad was full of suprises. We loved her perspective on the Spring collections and hearing about her David Bowie-inspired fashion mishaps, but it's her internet addiction to Anna Dello Russo's style that secured a place for her among our favorite fashionistas.
In Dallas' weird, semi-Winter weather, what are you putting on constantly?
"My Bill Cosby sweaters! I've been teased for my excessively odd sweater collection, but there's nothing I love more than pairing a comfy sweater that has, say, an asymmetrical hemline, with a pair of shorts and boots. Warm enough if Dallas decides to get cold, not suffocating if you walk outdoors and the sun is shining! I've currently been circulating a very 'après ski' Derek Lam one so often that it's referred to as 'the sweater that won't die.'"
Whose style do you most admire?
"Anna Dello Russo. I'll let you in on a creepy secret: I have an A.D.R. folder on my desktop into which I drag all photos of her. Not that I am narcissistic enough to believe she'd read this, but, Anna, if you ever run across this, please do not be alarmed, I am harmless! She just has such an unabashed love of fashion, it's refreshing."
How did your life experience/living all over the world influence your style?
"I wear what I want with disregard to my surroundings, but I'm not sure if that's a pro or a con! From a very young age, I decided I didn't care what was 'appropriate.' It made for some awkward fashion moments growing up, like the beret and 50s boucle coat debacle of the fifth grade. Or snakeskin leather pants that defined my seventh grade persona. But as a result, I'm comfortable enough with my style to wear what I like, whenever I like."
What investment pieces have you purchased that just seem to always be relevant in your wardrobe?
"Leather jackets. The more wear they get, the better they look. I have a brown leather bomber by Chloe I've consistently worn for the last five years, and my latest favorite is a black motorcycle style by Robert Rodriguez that is so supple I'd sleep in it."
What trend do you loathe for Spring 2011?
"As for the trend I am personally ignoring: pajama dressing, as seen at Rochas, Suno, or Band of Outsiders. As appealing as yards of printed silk may seem, swathing your body in it hides any amount of femininity or sexual appeal. The female body is gorgeous, why are you hiding it?"
What's your favorite?
"I love the resurgence of seventies glamour from labels like Marc Jacobs, Halston, Elie Saab, Tracy Reese, Dolce & Gabbana, Pucci, and even Tom Ford. Minimalism has never been one of my strong points; so, of course, I love all the exaggerated bell bottoms, flowing maxi dresses, wild prints, floppy hats, huge sunglasses, bright color, and gold accents."
How has working at PinkMemo altered what you wear on a daily basis?
"Working day in and day out with such lovely, fashionable women, and in a place where eccentricity, fashion forwardness and sky-high heels are accepted -- even encouraged -- certainly has not helped my shopping addiction. Being at school, where people go to class in leggings (please, stop) and Ugg boots (the bane of my existence) was terribly boring. I feel like I am inspired in a positive way every day I come to work."
What one item do you most want to buy right this very second?
"Long, sheer maxi skirts. I want one in every color under the sun, to wear over barely there short-shorts or layered over leather pants and sky-high booties. I like the risqué feel, minus the actual baring of skin. If you find a floor grazing one in emerald green, I accept gifts."
Worst/most regrettable style choice ever?
"Hmm…I had a vaguely David Bowie inspired jacket that I loved in high school. It was silver and had enough zippers and hardware to open a craft store. Needless to say, it didn't quite mesh well with my school uniform. I still have it…maybe I'll be Bowie next Halloween?"
Any travel wardrobe tips?
"I loathe repeating the same outfit twice, as I have an unfounded and absurd fear that I will run into the same people that last saw me in it. Silly, I know! So, vacations are the perfect opportunity to pull out those pieces you absolutely love, but that are too distinct to wear around town too often. New place, new people, feels like a new piece."
Three words to describe your signature style?
"I don't think I have a 'signature style!' I feel like I have fashion OCD. So, maybe my words are colorful, eclectic, and…havoc?"
Copyright FREEL - NBC Local Media