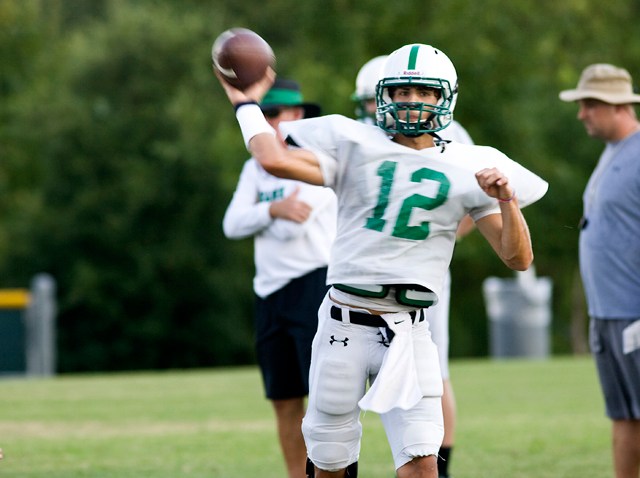 After much speculation about the validity of his residency status, Carroll High School quarterback Daxx Garman has been ruled ineligible and will not play in Friday's game.
Garman's eligibility was struck down by a vote of 4-3 by the District 7-5A executive committee late Friday morning.
"The parents can decide if they want to appeal to the state level but, at this point, he's not eligible to play," said District 7-5A Chairwoman Susan Eliza.
Scott Adams, the Garman family's attorney, plans to file an appeal with the University Interscholastic League on Monday. He said he will ask for an expedited hearing because appeals can take as long as seven to 10 days to be heard.
Eliza said the committee's decision centered on questions of eligibility and residence.
In February, Garman's family rented a home in Southlake. His Texas eligibility was called into question in a WFAA-TV report earlier this week that alleged Garman's family still lived at the family's ranch in Choctaw, Okla., and moved to Southlake to play sports.
The UIL does not allow students who change schools for athletic reasons to compete in varsity sports for at least one calendar year.
Adams said the family still has furniture and other belongings in the Choctaw house because the family still has business affairs in Oklahoma and travels there on business, as do many other people in the Metroplex. He also said the Garmans moved to Southlake after they were unhappy with Oklahoma's ruling on Garman's eligibility.
Garman played for and attended Jones High School last fall. The school was forced to forfeit six district games and its district title because Garman was ruled ineligible for not living in the school's district.
According to a report in the Dallas Morning News, the Oklahoma Secondary School Activities Association said Garman was to sit out an equal amount of participation time in the following year. Garman filed for a waiver to regain his Oklahoma eligibility, but that request was denied.
In a statement Friday, the Carroll Independent School District said Garman and his siblings "are Carroll Dragons."
"They have been residing in our district and attending our schools for several months," the statement said. "Our biggest disappointment today is that this situation negatively affects a teenage boy."
The Carroll Dragons lost Friday night's game. Copperas Cove won, 35-14, at Bulldog Stadium.
Coaches, players and school officials at the game declined to comment on the committee's ruling.
But parents at the game said it was an unfortunate situation.
"I just think it's a tragedy for the kid," Ted Christensen said. "He's the victim in all this."
He said Garman, who does sprints with his son, is "a great kid."
"I think the team will be fine," Christensen said. "They've got other kids who will step up and they're rallying around Daxx, and they're going to be fine."
"I'm disappointed for the boys," parent Rona Glasener said. "But hopefully, it'll make the whole team pull closer together. We'll move through, move on, and we'll be all right."
NBCDFW's Kevin Cokely, Randy McIlwain, Stefan Gorman contributed to this report.