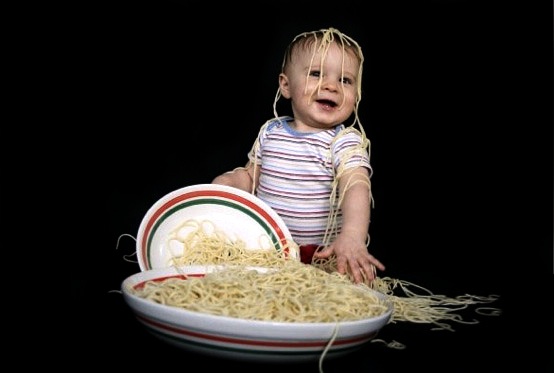 They stare it down, they push it around. They sniff it, they poke it, they throw it.

But they just won't eat it.

Most every family has a pint-sized picky eater, and pleasing their persnickety palates can make meal time a real hassle. …And if eating at home is a battle, then going out is World War Three.

In the interest of making peace around the dinner table, we've consulted with a few local experts. From grandparents to food writers, we've got plenty of dining-out tips that'll steer you clear of the drive-thru and please every member of your bunch.

FREEDOM OF CHOICE: Most of our experts agreed that you can't go wrong with a buffet. One Dallas grandmother of eight (whose brood includes a 12-year-old vegetarian), is a regular at Golden Corral. "All picky eaters can find something they like there," she states. We hear they even keep the cheese sauce right next to the broccoli, and you know what Mary Poppins says about "a spoonful of sugar."

ONE FISH, TWO FISH: Believe it or not, seafood spots can be kid-friendly, too. A Plano mom we polled loves Half Shells in the Shops at Legacy. She notes, "It's always consistent in food quality and service. My kids like the fresh fried fish strips." As a special treat, she adds, the family walks to Tart Pastry Boutique after dinner to pick out a cupcake. And speaking of seafood, don't cross sushi off the list, either. Kim Harwell, a former Dallas food writer jokes, "I've found Japanese restaurants to be a godsend. Both my kids love edamame, and I can pass off chicken katsu as McNuggets without too much grief!"

FINE FAMILY DINING: Jay Jerrier of Cane Rosso Pizza Napoletana even goes the white tablecloth route with his choosy little girls – but location is key. "We've always found that any of the Rathbun restaurants will go out of their way to accommodate kids. Shinsei in particular, but also Jasper's and Blue Plate Kitchen," he notes. "I am typically stressed bringing them to a nicer restaurant, but Tracy Rathbun [of Shinsei] always goes out of her way to make sure we know it's no big deal to bring kids in."

SURE-FIRE HITS: Finally, for no-miss kid-friendly dining any day of the week, our panel also recommends Campania, The Purple Cow, Souper Salad and Jason's Deli, with a special shout-out for the flank steak on the kids' menu at La Duni.

There you have it: plenty of options, and not a drive-thru in sight!

Copyright FREEL - NBC Local Media