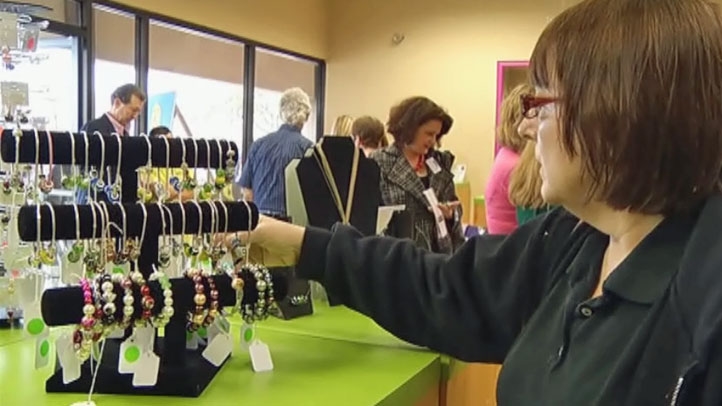 A nonprofit center in Plano has opened a retail store that sells products made by adults with special needs.
My Possibilities, a nonprofit center supporting adults with special needs, serves 125 people with programs such as continued education programs and vocational training.
The HIPstore opened on Custer Road in Plano on Tuesday. It features products such as jewelry, candles and artwork.
"It's a great accomplishment," said Carly Shuman, of McKinney, who attends My Possibilities programs twice per week.
Instructors supervise participants such as Shuman during the work day. They said the work sold at the store showcases the participants' abilities.
"The product that you're going to purchase is being made right in the back of the store," said My Possibilities founder Charmaine Solomon. "It's very tangible. You can actually see it."
Finding opportunities for people with special needs has long been a priority for Solomon.
"We believe that they can grow," she said. "They just need extra help."
Solomon, who has a special needs son, said the idea for My Possibilities began on the back of a Starbucks napkin.
When the center organized nearly four years ago, they served six "HIPsters," or "Hugely Important People."
My Possibilities supports people with special needs who have aged out of the Texas public school system.
Micheal Thomas, executive director, said it is difficult to find quality programs in Texas for this significant segment of the population.
The experience of work and productivity is invaluable to people in My Possibilities, he said.
"When they get that paycheck, it's that moment of, 'This is my product. I have committed, I have worked, I have produced, and now I am a part of the community,'" Thomas said.
My Possibilities operates in a 10,000-square-foot building. The HIPstore opening is part of the center's expansion into an additional 3,000-square-foot facility.