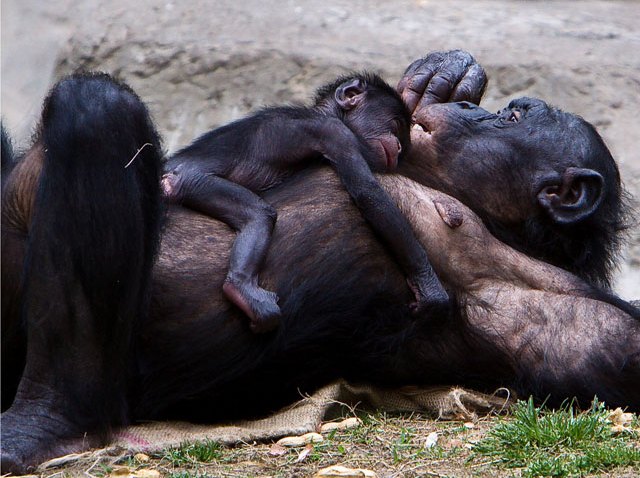 Mother's Day came a month early for the Fort Worth Zoo, when a female bonobo gave birth on April 12.
So what is a bonobo? It's a highly endangered species closely related to the chimpanzee. Bonobos are native to the Democratic Republic of Congo.
The baby bonobo is the third successful offspring for 20-year-old Lucy and 34-year-old Kevin.
The new female baby bonobo joins the current troop of six bonobos living at the Fort Worth Zoo's "World of Primates" exhibit.
The Fort Worth Zoo is the only zoo in Texas that houses bonobos and only zoo in the nation to have representatives of all four Great Ape species - gorillas, orangutans, chimpanzees, and the critically endangered bonobo.
The baby bonobo doesn't have a name yet, the zoo is depending on you to name her.
Zoo staff thoughtfully came up with five names for the public to choose from:
| | | |
| --- | --- | --- |
| Name | Meaning | Language |
| Abeni | "we asked for this child and she is ours" | Yoruba |
| Azize | "powerful, beloved" | Swahili |
| Gigi | "brilliant" | French |
| Kioni | "born with eyes open" | Kikiyu |
| Layla | "dark beauty" | Swahili |
People who voted for the winning name will be entered into a random drawing, the winner of that drawing will get a Fort Worth Zoo t-shirt, bonobo plush toy, framed 4x6 photo of the baby bonobo, and a family four-pack of tickets to the zoo.
Voting takes place now through May 20 online at FortWorthZoo.org/NameTheBaby.