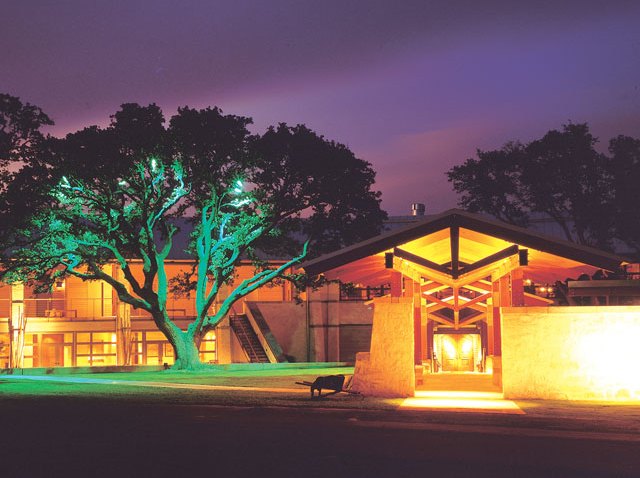 Rough Creek Lodge could be one of the best kept secrets in Texas.
Nestled on the outskirts of Glen Rose, the lodge is known for being a perfect destination for a romantic weekend for two or a fun getaway for the whole family.
In addition to it's award winning cuisine, we will get to that in a moment, Rough Creek offers an array of activities including catch and release fishing, zip line and mountain climbing, hayrides, horseback riding, clay shooting, plus much more. Now, we don't have the time or space to list it all, but you can check it out for yourself here.
After a busy day with the kids, you can always relax at the resorts spa, by the swimming pool or by taking a long hot bath in one of the 51 guestrooms or suites in the main lodge.
You can either stay in the lodge, a secluded cabin, or rent a 7,500-square-foot home known as the owners retreat which features eight bedrooms.
Now to the food, I admit, I've stayed and eaten at Rough Creek a couple of times and the food is out of this world.
Just some of the temptations for your pallet, bacon and Stilton blue cheese quesadilla with baby arugula and passion fruit vinaigrette, and that's just to start.
For your main course, why not consider grilled ribeye of beef with potato grill portobello mushroom hash and tomato chutney or pan-roasted Tasmanian salmon with fingerling potatoes, roasted cipollini onions and porcini mushroom broth.
How about Valhona chocolate angel food cake with macadamia nut ice cream and ginger caramel sauce for dessert.
And if you aren't tempted yet, you can always try orange and honey-dipped french toast with brown sugar and cinnamon glazed bananas for breakfast.
Don't have time to travel right now, but you would like to try one of Executive Chef Gerard Thompson's creations yourself? You can find some scrumptious recipes on Rough Creek's website.
So come with an appetite, a sense of adventure, and your wallet. While this is an amazing place to get away, it does cost a little more than your average resort, but it's worth every penny and really worth the drive.
Getting there:
Rough Creek Lodge
5165 County Road 2013
Glen Rose, Texas
888-670-1223