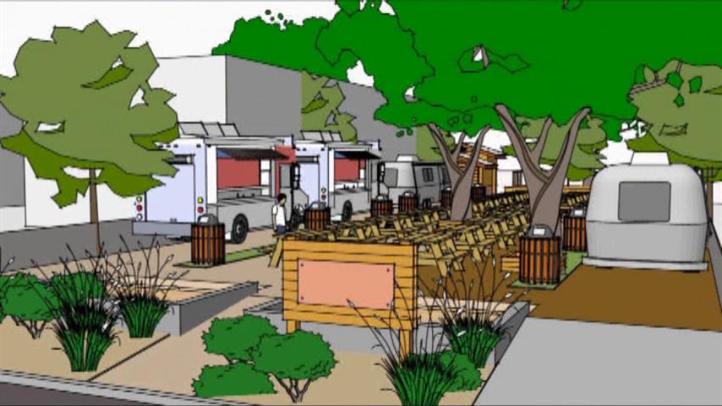 Gourmet food trucks have caught on in Fort Worth, but you won't find them all in one place.
But a decision by a city board this week means Fort Worth will soon have its first food truck park.
The vacant piece of land on Weisenberger Street north of the Montgomery Plaza shopping center on West Seventh Street that will house the park doesn't look like much now. The lot is littered with discarded bottles and trash, a broken fence and busted pieces of concrete, but in a matter of weeks, it will receive a much-needed face-lift.
"Just generally, it'll be a nice, park-like space," said Chris Kruger, the man behind the project.
Kruger plans to add benches, a sandbox and horseshoe pit, in addition to the food trucks that will be on the sides. Kruger and his wife thought about starting up their own truck but instead chose to unite the growing industry into a central place.
He has not yet signed any trucks to the space.
"This is a unique enough idea that people will come to see what's over here," Kruger said. "We've got a lot of commercial development just to the west of us that's coming down this way."
Kruger and others who support the idea say the boost in biking and walking in the area and the increased development will lead the project to success.
The site in a busy industrial area with 18-wheelers about a mile from West Seventh. Some nearby businesses are concerned about limited parking, but a city board approved the project this week.
Construction and landscaping will begin in a few weeks with a goal of opening by late September or early October.
Those already running gourmet food trucks said they think the project will be an enormous success for Kruger and their fellow businesses.
"I think it will be good for the community," said Sarah Castillo, who owns Taco Heads on West Seventh. "We'll see what happens."
Taco Heads is the closest truck to the park, and Castillo said she thinks it will be good for her business and newcomers.
"And so if there are places where people can come out and try to get started, then I think it's a lot easier," she said.
Bryce Tomberlin, who owns The Wiener Man, called the park a "really good thing."
Tomberlin recently moved The Wiener Man closer to Taco Heads and changed his hours of operation because of the summer heat.
He said it's tough for mobile trucks to have cooling systems and awnings, something the park could offer so trucks can stay open longer.